East Village Housing Project Approved
Sunday, March 18, 2018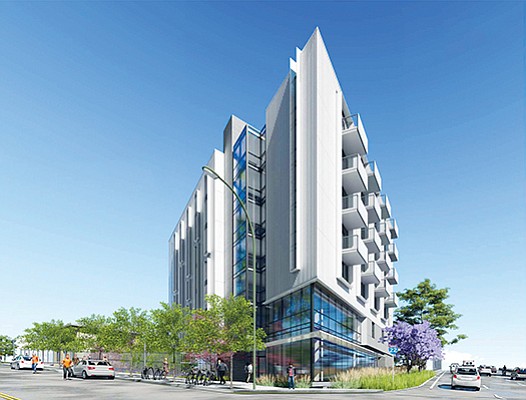 San Diego — An East Village project aimed at providing housing for people at risk of becoming homeless has been approved by Civic San Diego, the city-owned nonprofit agency that oversees downtown development.
Planned by Affirmed Housing, the 86-apartment project would be at the northeast corner of 17th and G streets.
Projected to cost about $21 million, construction of the 11,479 square-foot building is scheduled to start in March 2019 and be finished by October 2020.
Father Joe's Villages will provide on-site social services for building residents.
Apartments in the seven-story building will range in size from 300 square feet to 600 square feet.
Affirmed Housing has built about 30 affordable housing projects throughout San Diego County and elsewhere, and has six under construction.
Among Affirmed Housing's projects are the $34 million Bluewater Apartments with 80 units for low income families at Twain and Fairmont avenues and the adjacent $29 million Stella apartment complex with 80 units for homeless veterans.
The company also has a $27 million project to remodel a former motel at 4370 Alvarado Canyon Road.