SCHOOLS OFFER VARIETY OF PROGRAMS TO HELP FILL NEED FOR TALENT IN AN IMPORTANT, GROWING SECTOR
Universities Step Up With Cybersecurity Training
Thursday, March 15, 2018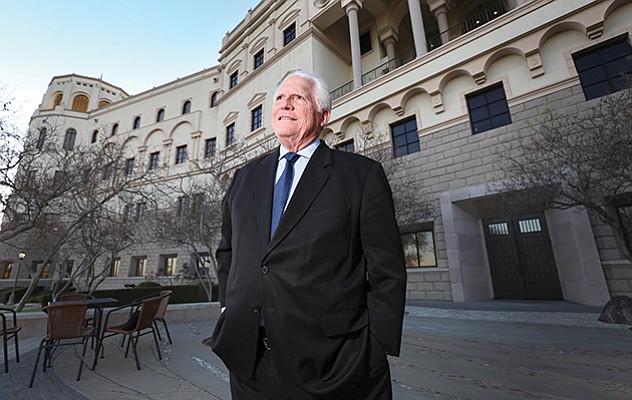 San Diego — San Diego County universities have launched cybersecurity degree programs to meet the growing demand for experts who can prevent online attacks and information theft.
"There is virtually no business that doesn't require cybersecurity and someone to take care of it," said Gordon Romney, director of the University of San Diego's Center for Cyber Security Engineering and Technology. "The job postings continue to grow. It's difficult to meet the need. Anyone getting into this field will have job security for at least the next 20 years."
A Strong Sector
Cyber security is one of the San Diego region's strongest economic sectors, "but we are behind the power curve on talent," said Ken Slaght, a retired rear admiral who serves as co-chair and president of the nonprofit San Diego Cyber Center of Excellence (CCOE).
According to a 2016 study conducted for the center, cybersecurity has a $1.9 billion impact on the San Diego region's economy. The study found that the region had 7,620 direct cybersecurity jobs, an increase of nearly 15 percent from 2014.
Universities as Resources
Unfortunately, there aren't enough cybersecurity experts in the field to keep up with the demand for combating online crimes. To reverse this trend, the center is tapping into the region's education system.
"All the universities are aware this is a growing market," Slaght said. "They are stepping up to the plate."
An increase in the cybersecurity workforce can't come soon enough. "The number of attacks that occur daily that originate from rogue nations is phenomenal, said Romney. "It is affecting Americans in all walks of life. It is only going to get worse. We're trying to improve our control over it, but it's tough."
A Center for Cybersecurity Training
San Diego has become a center for cybersecurity training because of the strong presence of the military and defense contractors, Romney said. Many of USD's cybersecurity students work at such firms as Cubic Corp., Qualcomm Inc., Northrop Grumman, Science Applications International Corp. (SAIC), and the Space and Naval Warfare Systems Command (SPAWAR), he noted. Others are military personnel or veterans who are developing skills they can use in the civilian workforce.
The first wave of cybersecurity graduates from USD and other local schools now is beginning to reach the workforce.
USD has more than 140 students enrolled in its online Master of Science in Cyber Security Operations and Leadership program. About 60 students are enrolled in USD's classroom-based Cyber Security Engineering master's program. Both programs began in 2015. There have been nine graduations from both programs so far, but another 80 graduations are expected in the spring.
Prev Next