LEADERSHIP: IT, ACQUISITIONS, AND WORK COME OUT OF THE SILOS
At Cubic, CEO Is Making Connections
Thursday, March 15, 2018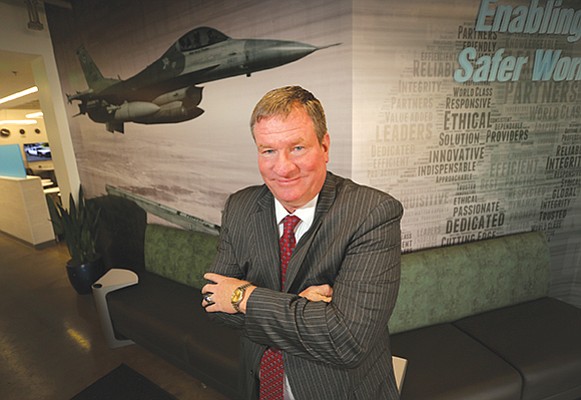 San Diego — Innovation is great. Speed makes it better. A brisk pace has the power to multiply innovation, maybe even square it, as in E = mc².
For decades Cubic Corp. has traded on its innovative streak. There were plenty of breakthroughs in the 1950s, 1960s and 1970s, said Brad Feldmann, Cubic's chief executive, who worked under the company's dynamic founder, Walter J. Zable.
Cubic (NYSE: CUB) offers electronics and services to the defense and mass-transit markets. Feldmann wants the company's innovative streak to continue, even improve. "Is there a way we can speed that up?" the CEO asked during a recent interview.
The business has thousands of people able to observe customers' pain points — their needs — and ponder solutions. Cubic will "place bets" on technologies that might help a customer, in the short or the long run, allocating money to R&D.
Elected Chairman
Feldmann has been CEO since July 2014, but he recently gained another title, chairman. He's achieved the rank that Zable had.
Feldmann doesn't seem to be gloating over his multiple job titles.
"The decision was up to the board," he said. "I'm happy to serve in the capacity."
Feldmann said he sets aside time each week to catch up on innovation within Cubic. "I look in on the projects, remove roadblocks," he said. "… I try to connect things in the company."
Today, Feldmann said, Cubic is at the top of the heap when it comes to mass-transit fare collection systems (London and New York are major clients), air combat training systems and communication systems for military special forces.
"We work very hard to have a market-leading position," he said.
The past few months have seen big wins for Cubic, including New York and Boston fare-collection deals and a full-rate production contract from the U.S. Army for Cubic's GATR inflatable satellite dishes. The latter will likely lead to more business, he said.
"We're trying to get to $2 billion in revenue in the next three years," Feldmann said. Revenue for 2017 was $1.49 billion.
Changed the Co. Structure
Walter J. Zable, who died in 2012 at age 97, kept his business strategy in his head. Feldmann is putting his stamp on the company by Feldmann writing the strategy out for all to see.
The business is also in the home stretch of installing an enterprise-wide information technology system using software from SAP. Cubic will reap the rewards of the common system in 2019 and 2020, the CEO predicted.
He's also changed the company structure.
Cubic tries not to be as insular and partitioned as it once was, with projects in their own silos. "We have defense guys work on transportation problems and transportation guys work on defense problems," Feldmann said. "That never happened before."
The defense staff laid the groundwork for a fare collection win in Singapore, the CEO added.
"So we're behaving much more as one company, as opposed to a holding company with a bunch of divisions. I think there's tremendous power in us sharing and behaving for the collective good."
Future in Toll Roads
Cubic would like to transition the company's transit fare collection systems, all tailored for their particular markets, into a common design. Feldmann calls the common design components "Legos," bringing to mind an image of systems that can easily snap together.
Another bet Cubic is making is that governments will emphasize toll roads as gas taxes decline. Improved auto fuel economy and the increased use of electric vehicles are chipping away at gas tax revenue, and Cubic wants to be there with technology to support toll roads.
A discussion of innovation, and putting more electronics into a small space, brings up the Apple Inc. iPhone.
"I'm a little bit of an Apple snob," Feldmann said. He has two mammoth Apple computer monitors on his desk.
He also has golf clubs in the corner of his office. Golf helps him clear his mind, Feldmann said in a 2015 interview. A good week will see Feldmann play at The Crossings at Carlsbad, near his home.
The affinity goes back to his teens. There was a course next to his house when he lived in New Mexico, Feldmann recalled.
In the decades since, Feldmann has had the opportunity to play in Scotland, at the Old Course ("we walked on," the CEO recalled) as well as Carnoustie and Kingsbarns. The CEO said he would love to play in Ireland and in Augusta, Georgia — home of the Masters Tournament.
Feldmann is a U.S. Air Force Academy graduate who is on his second engagement at Cubic. He originally joined in 1989 and left to work for Omniplex World Services Corp. for a time. Cubic hired him back to lead its defense unit in 2008. Since then, Feldmann advanced to the top of the company.
He and his wife Debbie have six children. His college-age daughter has been accepted to the Air Force Academy but — to Feldmann's chagrin — she is looking more seriously at the Naval Academy.
Growth by Acquisitions
Part of Feldmann's job as CEO is growing the company by acquisition. Cubic has been on an acquisition streak for the last few years. Recently it bought Silicon Valley-based MotionDSP, a specialist in full-motion video processing, for undisclosed terms.
Feldmann said the acquisitions will continue. He declined to give specifics, saying only that the businesses must fit Cubic's strategy, and Cubic cannot overpay.
In recent years, the San Diego corporation has acquired companies that offer networking and satellite communications.
Since the 9-11 terrorist attacks, Cubic's military clients have wanted full-motion video. "We've bet on that demand increasing with our acquisitions," Feldmann said.
Cubic is able to string all of those acquired technologies together to create a coherent system for its military client.
And the assemblage works?
"It does," the CEO said with a pause. "It works well," he said, putting emphasis on the last word.