LEADERSHIP: IT, ACQUISITIONS, AND WORK COME OUT OF THE SILOS
At Cubic, CEO Is Making Connections
Thursday, March 15, 2018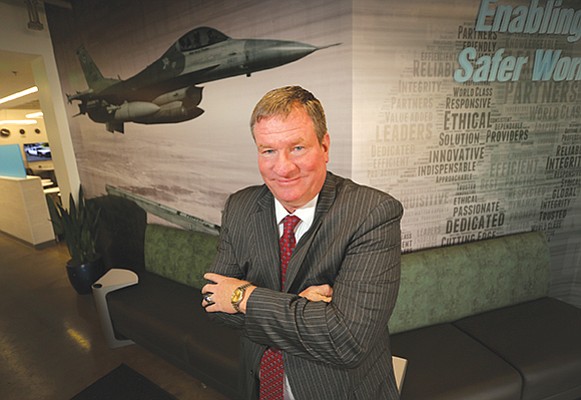 San Diego — Innovation is great. Speed makes it better. A brisk pace has the power to multiply innovation, maybe even square it, as in E = mc².
For decades Cubic Corp. has traded on its innovative streak. There were plenty of breakthroughs in the 1950s, 1960s and 1970s, said Brad Feldmann, Cubic's chief executive, who worked under the company's dynamic founder, Walter J. Zable.
Cubic (NYSE: CUB) offers electronics and services to the defense and mass-transit markets. Feldmann wants the company's innovative streak to continue, even improve. "Is there a way we can speed that up?" the CEO asked during a recent interview.
The business has thousands of people able to observe customers' pain points — their needs — and ponder solutions. Cubic will "place bets" on technologies that might help a customer, in the short or the long run, allocating money to R&D.
Elected Chairman
Feldmann has been CEO since July 2014, but he recently gained another title, chairman. He's achieved the rank that Zable had.
Feldmann doesn't seem to be gloating over his multiple job titles.
"The decision was up to the board," he said. "I'm happy to serve in the capacity."
Feldmann said he sets aside time each week to catch up on innovation within Cubic. "I look in on the projects, remove roadblocks," he said. "… I try to connect things in the company."
Today, Feldmann said, Cubic is at the top of the heap when it comes to mass-transit fare collection systems (London and New York are major clients), air combat training systems and communication systems for military special forces.
"We work very hard to have a market-leading position," he said.
The past few months have seen big wins for Cubic, including New York and Boston fare-collection deals and a full-rate production contract from the U.S. Army for Cubic's GATR inflatable satellite dishes. The latter will likely lead to more business, he said.
"We're trying to get to $2 billion in revenue in the next three years," Feldmann said. Revenue for 2017 was $1.49 billion.
Changed the Co. Structure
Walter J. Zable, who died in 2012 at age 97, kept his business strategy in his head. Feldmann is putting his stamp on the company by Feldmann writing the strategy out for all to see.
The business is also in the home stretch of installing an enterprise-wide information technology system using software from SAP. Cubic will reap the rewards of the common system in 2019 and 2020, the CEO predicted.
Prev Next