TRANSITION: JONES LEADS 4-MONTH EFFORT TO ABSORB SCRIPPS SERVICE
Health Care Heroes: Hospice Leader Works to Ensure Access to End of Life Care
Monday, March 12, 2018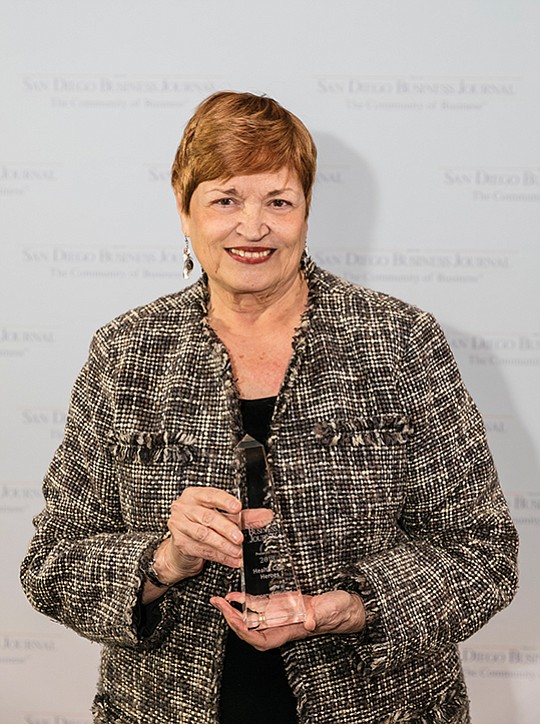 San Diego — The Elizabeth Hospice President and CEO Jan Jones can't bear the thought that someone might need her organization's help but doesn't know it's available.
For that reason she treasures one job duty above all others: serving as liaison to the community. She gets to spread word about the organization's palliative care and grief support services.
"For me, it is important that I reach out to as many places and as many people as I can to ensure that no one would go without the service or the care that they deserve," she said.
Jones, winner of the San Diego Business Journal's 2018 Health Care Hero award in the Executive-Service Provider category, has brought a nurse's dedication to bear on national and local obstacles to the continued availability of hospice.
'Visionary Pioneer'
As chairwoman of the National Hospice and Palliative Care Organization, she works to strengthen the supply of health-care providers, educate patients and promote professional excellence, NHPCO President and CEO Edo Banach wrote in an email. He called her a "visionary pioneer in the field of hospice and palliative care."
Hospice, as an industry, has seen reimbursements decline in recent years even as new regulations have raised costs. Jones said this situation, combined with the imperative to provide raises to staff, requires a high degree of operational efficiency. At the same time, she emphasized that nothing can be allowed to interfere with the service mission.
Jones came to Elizabeth Hospice in 2012, after being attracted to the field as a nurse in Miami during the 1980s. She said she has always been comfortable speaking with people and their families about end-of-life care.
That remains an important part of what she does, but her CEO hat requires her to oversee much wider activities.
Under her leadership, Elizabeth Hospice partnered in November 2015 with Palomar Health and LightBridge Medical Associates to help establish a palliative care inpatient program at Palomar. Palliative care physicians from Elizabeth Hospice and LightBridge are now on-site or on-call at all hours to consult with Palomar's patients.
She also is involved with a program that teaches UC San Diego medical students and geriatric fellows to address patients' needs, including those related to emotional and spiritual well-being. The initiative shows participants how to make people comfortable, control symptoms and manage pain.
"It's an opportunity to help show what can be done to make people as comfortable as possible," she said.
Working With Children
Elizabeth Hospice cares for kids on several levels. It works with Rady Children's Hospital-San Diego to treat infants and children at their homes while also supporting their families. In addition, the organization puts on events that teach coping skills to young people in mourning, and offers grief support to students through their schools.
A particularly difficult challenge arose recently when Scripps Health approached Elizabeth Hospice about Scripps' plan to close its hospice in Hillcrest. The move would require arranging the transfer of care for many patients at the same time.
Jones said the process only succeeded because of four months' hard work behind the scenes involving employees of both organizations.
Rady's CEO Donald Kearns said Jones and her team have done an "exceptional job" with the transition. He added the hospital continues to be impressed with Elizabeth Hospice's sympathetic work with children facing end-of-life care.
It all started with Jones' nursing career; that's where she learned she could make a positive difference in people's lives.
"To me," she said, "there's nothing more important than helping people live out their lives to the end in the way they would choose."