Student Brings Camaraderie of Sports to Autistic Kids
Sunday, March 11, 2018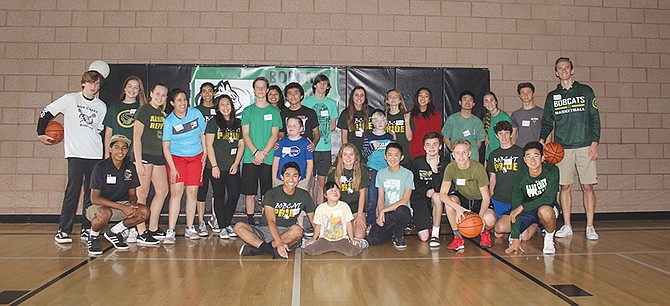 San Diego — The Boys & Girls Clubs of Carlsbad announced that it has offered its gym free of charge to Ethan Hope, an enterprising young man with a big heart.
Hope grew up with a family friend who was diagnosed with autism and saw firsthand the hardships his friend went through on a daily basis. Hope decided he wanted to do something to help kids on the autism spectrum.
"My baseball coach, Butch Smith, would always tell us to be grateful for what we have in life, and to not take things for granted," Hope said. "There are so many kids with disorders like autism that have the desire to do things that typically developing kids do, and I decided to do something to help
them out."
Now a sophomore at Sage Creek High School on Cannon Street in Carlsbad, Hope formed "Bobcat Buddies," a club whose primary purpose is to provide autistic teenagers with fun sports-related events in an environment where they can learn, grow, and interact with others.
One of the first events Bobcat Buddies wanted to host was a game-filled afternoon. Hope approached the administration of Sage Creek High School to reserve the gym, but the school was unable to provide the gym free of charge. "I was devastated; our (Bobcat Buddies) club just didn't have any fundraising capabilities."
Not one to take "no" for an answer, Hope reached out to the Boys & Girls Clubs of Carlsbad. The group offered its gym to the Bobcat Buddies free of charge.
"I was so extremely happy; I was almost crying when I heard this great news," Hope said. Recently his dream was realized when nearly 30 teens gathered for a fun afternoon playing basketball and other games. Camaraderie was the emphasis of the afternoon, and Bobcat Buddies is already hard at work planning its next activity, and hopes even more teens will join them. Visit: www.bgccarlsbad.org/
In related BGC of Carlsbad news, the club recently announced two scholarship winners. Maria De La Mora and Polina Past were selected as Boys & Girls Clubs of Carlsbad's Youth of the Year Winner and Runner-Up, respectively. Thanks to the generosity of Julie and Matt Harelson and Keith Blackburn, De La Mora will receive a $10,000 college scholarship, and Past will receive $1,500 for higher education purposes. De La Mora will go on to compete for the San Diego County Youth of the Year. The two girls will be honored at the Club's Super Star Recognition Dinner to be held in May.
Prev Next