Santaluz House Embraces Luxury and Embraces Nature
Sunday, March 11, 2018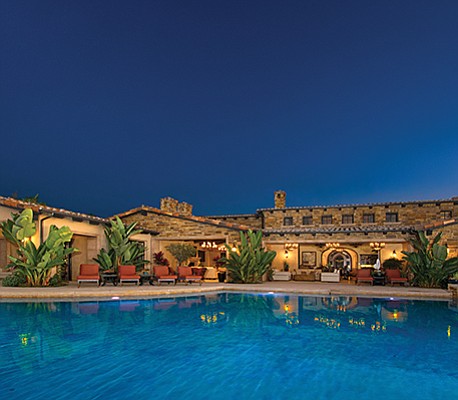 San Diego — The original developers of the master-planned community of Santaluz were ahead of their time when they began development in the late 1990s with environmental stewardship as its fundamental principle.
Taylor Woodrow Homes Inc., now Taylor Morrison Inc., and DMB Associates Inc. honored the natural contours of the land, rolling hills and native grasses to create a 21st century community that preserves and complements the environment.

Wedged between Fairbanks Ranch to the west and on the northeast by the 2,352-acre Black Mountain preserve, the original concept is attracting like-minded homebuyers.
Gloria Silveyra-Shepard and Kathy Lysaught, a real estate team with Coldwell Banker Global Luxury, know the area well. Both live in Santaluz and have represented buyers and sellers in the community, as well as all over San Diego, for years. Both women have lived in Santaluz for more than a decade and bring a personal perspective as to why it is set apart from most other master-planned communities.
Shepard and Lysaught are representing a home built in 2015 at 8092 Doug Hill in Santaluz. It's a 10,002-square-foot spectacular Tuscan-style estate on nearly an acre of land overlooking three fairways and one of the two lakes. The asking price is $8.749 million.
Built by Scott M. Grunst, a renowned architect in the San Diego area, the team refers to the home as "the crown jewel of Santaluz."
Lysaught said one of the reasons they call it the "crown jewel" is that if you're on the golf course at the 14th tee box "you're above the lake and you can look over and see the back of this house, and a beautiful vanishing-edge pool with fully mature landscaping below, it looks just like a piece of jewelry; it's just breathtaking, really."
The five bedroom, six bath home looks like a private resort with all the amenities that one would expect from a world-class spa. The views span from the lake to the mountains, over the golf course and all the way to the Pacific Ocean. Sunsets, sunrises and star-lit nights are enjoyed from a heated 1,183-square-foot double veranda that includes an outdoor kitchen for entertaining.
Inside, the home that was designed by Susan Spath of Kern a& Co. is at once dramatic and luxurious, yet comfortable family friendly space.
The open concept chef's kitchen features high-end appliances with a large butler's pantry and breakfast nook with views of the lake and golf course. The formal dining area has impressive coffered, dark wood ceilings and wainscoting on the walls with French doors opening to the outdoors. On the first floor there are three secondary en suites all with outdoor patios, a 500-bottle wine room, powder room and laundry room.
Prev Next