Food Hall to Have Tastes, Technology and, of Course, a Windmill
Sunday, March 11, 2018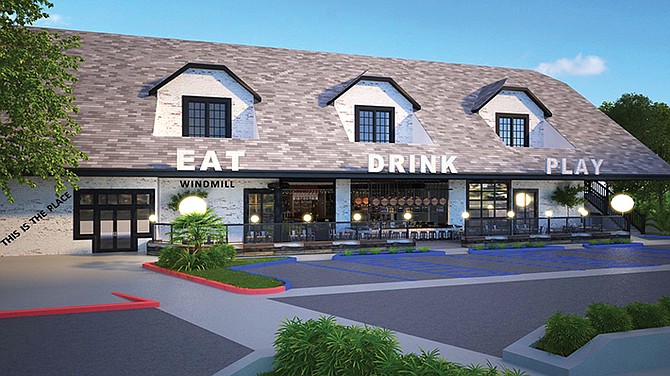 San Diego — A landmark Carlsbad building noted for its high-profile windmill visible from Interstate 5 is being transformed into a food hall in a trend that is spreading in San Diego County.
Formerly the home of a TGI Fridays restaurant and a Pea Soup Andersen's restaurant before that, the building will soon become The Windmill Food Hall under the direction of restaurateur James Markham.
"North County is ready for this," Markham said. "If somebody else was doing this, I'd be stoked, so I figure, why not me?"
Markham is the creator and founder of the Carlsbad-based Pieology and Project Pie restaurant chains and Crackheads, Rolled Up, Doughballs and Jarfood restaurants.
The 12,000 square-foot building at 890 Palomar Airport Road is vacant, but Markham recently signed a 10-year lease in a $3.5 million deal to turn the indoor/outdoor space into what he's calling an "artisanal food hall" with a grand opening scheduled for this summer.
With Legoland and North County's flower fields nearby, "It's such an iconic building," Markham said. "People from L.A. know it, people from Orange County know it."
Details on what restaurants will be included in the food hall are still being worked out, but Markham said there will be 11 vendors, and a bar that he will operate.
"I'm sort of in the process of signing people up now," Markham said. "We've been inundated with people wanting to get in."
Food offerings will range from burgers and barbecue to sushi and Mexican.
"We can satisfy pretty much anybody's palate. I don't think we'll have any veto votes," Markham said.
Unlike more conventional food halls, Markham said wait staff will roam the hall, allowing customers to add to their order without leaving their seats.
"Sometimes food halls are a little hectic. It can be a little chaotic and sometimes people just want to relax," Markham said. "If you have people coming to your table after the initial purchase, it will help."
Enabling that kind of service will be a payment system similar to what's used at the KABOO music festival in Del Mar, where people are given a key fob or bracelet — synced to a credit card — upon arrival.
To pay for their order, customers will swipe their fobs or bracelets, freeing the wait staff from dealing with credit card processing.
Markham said the new food hall also will be family oriented, with lots of games for the kids.
Bill Shrader, senior vice president of Colliers International, said food halls are popular elsewhere in the country and are just starting to pop up in the San Diego region with food halls planned for Little Italy and Sorrento Valley and one already open in Liberty Station with more than 30 vendors.
"It's definitely a trend in the food business," Shrader said. "I think that's primarily because people want more choices when they go out. When you go out with a group of people or couples and you don't want to eat the same thing, you can grab what you want."
Shrader, David Maxell and Serena Patterson of the Urban Property Team of Collier's International San Diego office represented Markham and the windmill building owner, Carlsbad Properties Inc. in the lease transaction.
"It's an iconic North County location where all you say is you're at the windmill and everyone in Carlsbad knows where it is," Shrader said.
Food halls, such as the one Markham is planning for the windmill building, are sort of a spin-off from traditional food courts found in shopping malls, although a high-end version.
"The food courts were kind of a sterile environment," Shrader said.