BIOTECH: CO. FINDS RIGHT BALANCE FOR WORK ON DRUG, DELIVERY SYSTEM
Platform Delivers For Halozyme
Thursday, March 8, 2018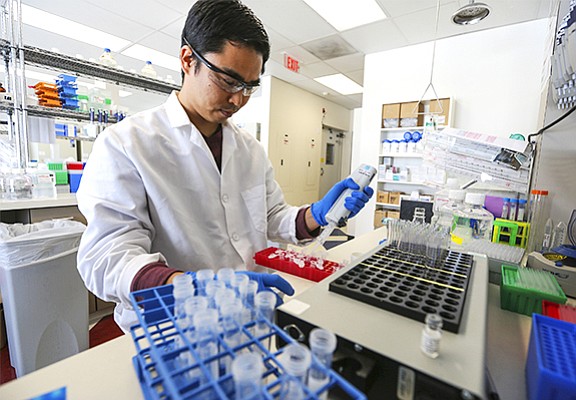 San Diego — Halozyme Therapeutics seeks big returns on two fronts. Royalties in one could hit nearly $1 billion by 2027. The other holds even bigger potential.
The San Diego company is cashing in on its drug delivery platform, and it's in final clinical trials with a cancer drug. Halozyme's dual focus — a differentiating factor — brings financial flexibility, with the challenge of uniting employees under one banner.
The delivery platform, Enhanze, allows for drugs to be absorbed under the skin, or subcutaneously, a much quicker method than intravenous infusion. On the back of mammoth Enhanze deals, Halozyme reported $316.6 million in 2017 revenue, an increase of 116 percent from the prior year, and up 134 percent from 2015.
In fourth quarter of 2017 alone, the company posted $189.6 million in revenue, topping analysts' average expectation by $28.1 million.
Platform's Big Potential
"We see many drugs that could benefit from our technology, and we're in active dialogue with a number of companies today," said CEO Helen Torley. "There are more deals to be had."
Companies license Halozyme's technology when developing new drugs for subcutaneous injection, or to retool existing drugs for that purpose. Subcutaneous injections take five to 10 minutes, as opposed to being hooked to an IV for a four-hour infusion.
It frees up time — and worry.
Enhanze Royalty $1B By 2027?
The company last year inked Enhanze agreements with giants Alexion Pharmaceuticals, Bristol-Myers Squibb and Roche. Based on eight deals signed and momentum, Halozyme forecasts nearly $1 billion in Enhanze royalty revenue by 2027.
Torley said the $1 billion figure agrees with investors' estimates.
"That's based on assumptions, of course: the analysts' projections for the proprietary molecule sales. It assumes global approvals, assumes a good conversion rate, based on the value proposition that we bring. But to put those pieces together and show that the 2018 momentum in the clinic can translate into this by 2027 was an important message," she said.
Even bigger potential lies in its drug PEGPH20, currently in trials for multiple cancers. Recently the company initiated phase 3 trials for use of the drug in pancreatic cancer, known for being a death sentence since typically discovered in advanced stages. More than 65,000 people in the U.S. and five major European countries are diagnosed annually at late disease stages.
"Our investors have articulated that what will transform the potential of Halozyme is success in pancreas cancer," Torley said. "Enhanze will also be a very strong growth driver for us. But as you've seen in recent examples, a win in the oncology space and hard-to-reach tumor, that is where (there's) big value inflection."
J.P. Morgan analyst Jessice Fye put the probability of PEGPH20's success at 40 percent.
"Looking ahead, our focus remains on Halozyme's Enhanze platform and royalty streams, which we see representing both a valuation backstop and potential source of upside over time," Fye said in a Feb. 20 research note.
Agreeing on Enhanze's higher return probability was David Crean, managing director of San Diego's Objective Capital Partners, who leads the firm's life science investment banking deals.
"I've always been in love with the delivery platform," Crean said.
Last year Halozyme reported positive phase 2 results, including a statistically significant increase in survival of Stage IV pancreatic cancer. There was a 91 percent improvement in median progression-free survival, with 8.6 months for patients taking PEGPH20 versus 4.5 months in the control arm.
PEGPH20 saw bumps along the way.
Dealing With Adversity
In 2014, Halozyme ceased a PEGPH20 trial after an independent data monitoring committee reported a potential blood clot issue. Days later the FDA enacted a clinical hold.
"It was a surprise to everybody, including our investors," Torley said. "At that point, it was, 'Why is this happening? What can we do to prevent it? And can we and should we restart the study?' I was only four months in as CEO, and I was so impressed with the team here. They were so quick to just get to the science."
The hold was lifted after several weeks. The company found no conclusive cause for the blood clot events, and as a precaution the restarted study excluded patients at higher risk of the health issue.
While Enhanze and PEGPH20 differ — one a technology platform, the other a drug — they're complementary.
Enhanze generates a steady stream of cash to help fund PEGPH20. So, Halozyme, unlike many biotechs, doesn't rely on the good faith of investors alone.
When capital markets were tight in early 2016, Halozyme secured a $150 million loan, backed by future Enhanze royalty payments.
"We have a unique business model that allows us more options and flexibility than many single-product oncology companies," Torley said.
A physician-turned-businesswoman with much experience in pharmaceuticals, she took the reins in 2014. Early on Torley narrowed the company's focus.
She cut the company's diabetes program — despite somewhat promising drug data — to shift resources to oncology.
Restructuring
From 2014 to 2015, Halozyme went from 220 to 150 employees.
"As a CEO, anytime you have to restructure the company, that is an incredibly difficult, difficult decision," Torley said.
Today, Halozyme has 260 employees, with plans to add 40 more this year. Its gaze remains cast on Enhanze and pancreatic cancer, which isn't easy.
"Every time I turn down what I know is a good idea, but which will distract the focus from these two core value drivers, it's a tough decision. But I'm a great believer in focus and execution," Torley said. She added the company could broaden its reach after meeting goals in these two areas.
At the end of 2016, Torley was the only female CEO among 44 publicly traded San Diego biotechs. It was a wakeup call. She now chairs the Committee on Workforce Development, Diversity and Inclusion for Bio (Biotechnology Innovation Organization); Bio is the world's largest trade organization for the life sciences.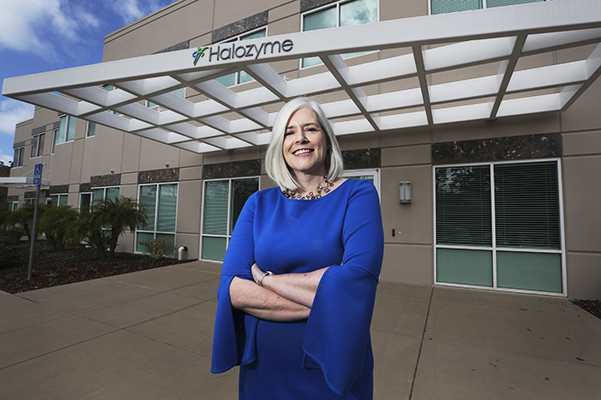 It makes an economic argument for greater representation of women and minorities at the mid and upper levels of national biotech companies.
"Diverse teams have more innovation. This is supported by data that says companies with diverse leadership teams made substantially more revenue from innovative products," Torley said.
Gender diversity, she said, organically occurred at Haloyzme. Females make up 40 percent of its executive team, and 43 percent of senior directors.

But the company made special efforts to unite the two parts of the company. That includes matrix-designed teams for added cross-functionality.
"Both pillars are complementary, and bring more optionality and more value to shareholders, particularly if we win in pancreas."
Clarification: This article was updated because Halozyme later clarified that it found no conclusive cause for the blood clots associated with the clinical hold. An earlier version of this story reported that it was found PEGPH20 wasn't associated with blood clots, based on an interview with Torley.