BIOTECH: CO. FINDS RIGHT BALANCE FOR WORK ON DRUG, DELIVERY SYSTEM
Platform Delivers For Halozyme
Thursday, March 8, 2018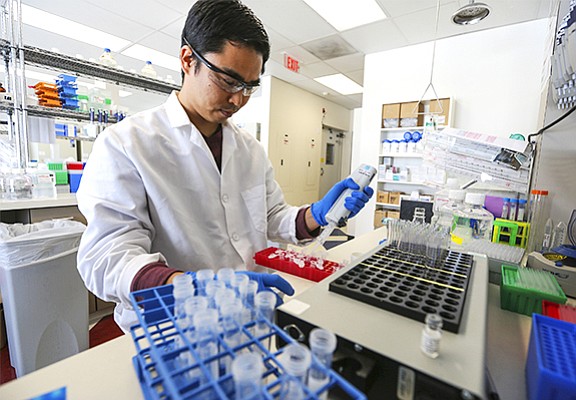 San Diego — Halozyme Therapeutics seeks big returns on two fronts. Royalties in one could hit nearly $1 billion by 2027. The other holds even bigger potential.
The San Diego company is cashing in on its drug delivery platform, and it's in final clinical trials with a cancer drug. Halozyme's dual focus — a differentiating factor — brings financial flexibility, with the challenge of uniting employees under one banner.
The delivery platform, Enhanze, allows for drugs to be absorbed under the skin, or subcutaneously, a much quicker method than intravenous infusion. On the back of mammoth Enhanze deals, Halozyme reported $316.6 million in 2017 revenue, an increase of 116 percent from the prior year, and up 134 percent from 2015.
In fourth quarter of 2017 alone, the company posted $189.6 million in revenue, topping analysts' average expectation by $28.1 million.
Platform's Big Potential
"We see many drugs that could benefit from our technology, and we're in active dialogue with a number of companies today," said CEO Helen Torley. "There are more deals to be had."
Companies license Halozyme's technology when developing new drugs for subcutaneous injection, or to retool existing drugs for that purpose. Subcutaneous injections take five to 10 minutes, as opposed to being hooked to an IV for a four-hour infusion.
It frees up time — and worry.
Enhanze Royalty $1B By 2027?
The company last year inked Enhanze agreements with giants Alexion Pharmaceuticals, Bristol-Myers Squibb and Roche. Based on eight deals signed and momentum, Halozyme forecasts nearly $1 billion in Enhanze royalty revenue by 2027.
Torley said the $1 billion figure agrees with investors' estimates.
"That's based on assumptions, of course: the analysts' projections for the proprietary molecule sales. It assumes global approvals, assumes a good conversion rate, based on the value proposition that we bring. But to put those pieces together and show that the 2018 momentum in the clinic can translate into this by 2027 was an important message," she said.
Even bigger potential lies in its drug PEGPH20, currently in trials for multiple cancers. Recently the company initiated phase 3 trials for use of the drug in pancreatic cancer, known for being a death sentence since typically discovered in advanced stages. More than 65,000 people in the U.S. and five major European countries are diagnosed annually at late disease stages.
"Our investors have articulated that what will transform the potential of Halozyme is success in pancreas cancer," Torley said. "Enhanze will also be a very strong growth driver for us. But as you've seen in recent examples, a win in the oncology space and hard-to-reach tumor, that is where (there's) big value inflection."
Prev Next