BEAUTY: CORDLESS HAIR DRYER WAS AN ENGINEERING CHALLENGE
Co. Not Just Blowing Hot Air With Tech Label
Tuesday, March 6, 2018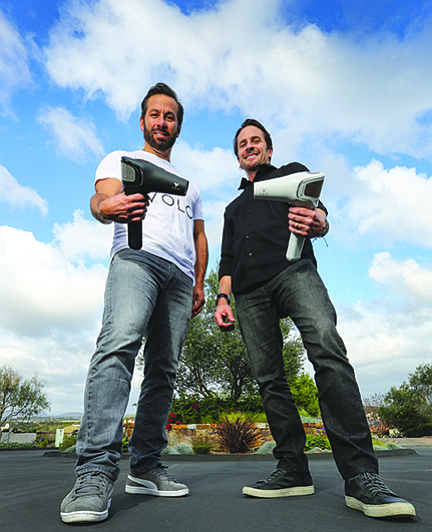 continued — Hitching a Ride
Fortunately for the Volo team, growing demand from electric car manufacturers has recently spurred additional innovation in battery technology.
"Batteries have gotten much better and much more powerful literally over the past 18 to 24 months," Salyer said. "It's become much more realistic to design this device over the last couple years."
To assuage safety concerns, the Volo team took to heart his advice that they source the batteries from a well-known U.S.-based company, he said.
Salyer, who advises startups at UC Riverside, said of the early-stage companies he is following, he is most optimistic about Volo's chance of success.
'Category Killer'
"I haven't seen anything on the market even close, so I think it's a category killer, for sure," he said.
Zach Rattner, a former software engineer at Qualcomm, worked with Friedman and Goldman during the prototyping phase.
"My first thought was, if this could be done, someone would have done it already," Rattner said. "I did have my doubts going in, but if you look at what's going on in the market, there's a lot of investment in battery technology … these huge macro-level trends and market forces have been driving costs down in the key areas."
Another trend that may benefit Volo is the move toward reducing cord clutter, he added.
It took about one year from when Rattner first spoke with the Volo team to coming up with a working prototype. Having an interdisciplinary team was key to achieving that milestone, Rattner said.
"It really came down to a blend of understanding the beauty industry, understanding the manufacturing challenges, understanding the engineering challenges and working hand in hand with each other," he said. "If it was the sort of problem that was purely electrical engineering, I think it would have been solved already, but to mix and match across the different disciplines I think made it more challenging."
With the battery pack tucked in the dryer's handle, the latest iteration of the product weighs about two pounds and holds a charge for about 14 minutes.
'Salon-Grade Output'
"You've got salon-grade output and even air flow, but it's only (using) 600 watts," Friedman said.
Volo plans to sell the dryer for $388 — under the $399 price point established by Dyson for its new flashy, albeit corded, dryer in 2016 — and offer accessories, including carrying cases, backup battery packs, drying towels.
Goldman initially considered launching the product at a beauty convention, but instead chose to debut it at CES, formerly called the Consumer Electronics Show, the world's biggest tech conference, in January, in a move meant to help brand the company as a tech startup, rather than a beauty company.
"We've put a lot of engineering and research and development into this to where, we're sure at some point competitors are going to try and work around this, but it's going to take time," Goldman said.
Kickstarter
Before launching this year, the company is planning to hold a Kickstarter campaign, through which the dryer will be available at a discount, to bring in additional money for manufacturing and to raise brand awareness.
So far, Volo has raised more than $1 million from angel investors. The founders say nearly 40,000 people have signed up to find out when the dryer will be available to purchase.
Prev Next