Qualcomm Vote Crucial to Region's Civic Future
Monday, March 5, 2018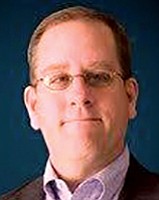 San Diego — The year is 1999. I'm sitting outside Irwin Jacobs' office, preparing for my first meeting with the CEO of Qualcomm. I remember Jacobs' first words well: "Welcome to San Diego, Kevin, how can I help you?" And there it is, Jacobs asking how he can help me, not the other way around.
I was struck by his smile, energy and his eagerness to find out more about me. That is the quintessential Qualcomm culture, and Irwin embodied it in every way. Fast forward nearly 20 years, and at this very moment we're at risk of losing this pillar as an independent company in San Diego.
The Impact
On a basic level, Qualcomm employs about 13,000 people locally, impacting approximately $3.4 billion in wages in the regional economy. According to the 2017 Qualcomm Economic Impact Report compiled by the San Diego Regional EDC, every dollar generated by the company results in an increase of almost $2 in the region's GDP.
How does that measure up? In 2017, the total economic impact of Qualcomm on the region's economy was an estimated $4.9 billion, the equivalent of 35 Comic-Cons. A similar economic study in 2013 equated Qualcomm's overall economic impact to holding one and a half Olympic Games every single year.
The combination of entities in Qualcomm's supply chain and complementary lines of business is the primary contributor to making America's Finest City a leading global technology cluster. This ecosystem also gives San Diego the healthy kind of bragging rights that push a city forward.
An Anchor
We can point to Qualcomm as an anchor that gives us credibility in the technology industry, draws talent and money to the area, and a source of innovation and expansion.
Our resident tech powerhouse has also spawned many new technology companies, most recently Brain Corp., which just last year announced $114 million in Series C funding and is now one of the fastest-growing tech companies in Southern California. And that's just one example of more than a dozen spin-off entities.
There's no doubt that this enterprise offers absolutely invaluable assets to the local tech collective and larger San Diego community as a whole.
Broadcom Pullback in OC
Many others in my network share my concerns about a possible acquisition by a company headquartered not only outside Southern California but outside the U.S. I urge all of you to look at Irvine and the acquisition of Broadcom; once the largest tech company in Orange County and a provider of civic leadership.
Prev Next