Ignite Conference Part of UCSD's Expanding Entrepreneurial Efforts
Monday, March 5, 2018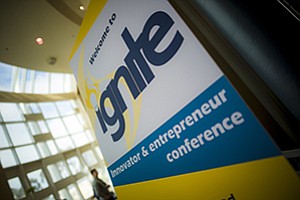 continued — "We revamped the process to make it similar, faster, no nonsense and open up the university as a platform for anybody in the community who wishes to explore ways in which they can become an entrepreneur," he said.
Steps taken over the last couple years have included reducing the cost of using IP developed at the university; establishing the San Diego Innovation Council, a group of representatives from the region's research universities and organizations working together to link external organizations with available resources; launching an entrepreneur-in-residence program; and hosting regular events, such as the Ignite conference and monthly talks by faculty on their latest research, to more-closely link the campus and the community.
Two Day Conference
The Ignite conference, which was a one day event in 2017, has been expanded this year to two days. The agenda includes interactive workshops and networking opportunities.
"It's an open platform for anyone in the community to learn what entrepreneurship is all about," Flores said.
UCSD's efforts are part of a broader trend of increasing improvement in communication between academia and the private sector, according to the Milken Institute, a Santa Monica-based think tank.
"While industry energizes innovation through research and development (R&D) initiatives, the main catalyst that fuels knowledge-based growth once again lies where it started: the American research university," the report said. "As new, bi-directional information exchanges open up between academic and industry researchers — as opposed to past linear models — more commercially attuned knowledge exchange is shared, leading to a rise in entrepreneurial success and economic impact."
This process benefits regional economies the most as "knowledge spillover" from universities spurs the creation of technology-based clusters, the report said.
In fiscal year 2015, the latest data available at the time of the report's publication, more than 1,000 firms were launched through TTOs at research universities, and more than 70 percent of startups were established in the same state as the university with which they were affiliated.
Ignite Conference
What: UCSD's flagship innovation and entrepreneur conference
When: March 6-7
Where: UC San Diego
Who: Faculty, students, staff, and alumni from UC San Diego and regional universities; entrepreneurs; investors; members of the community.
Tickets: ignite.ucsd.edu/r...
Prev Next