Co.'s Rodent Testing Niche Aims for NASH Treatment
Monday, March 5, 2018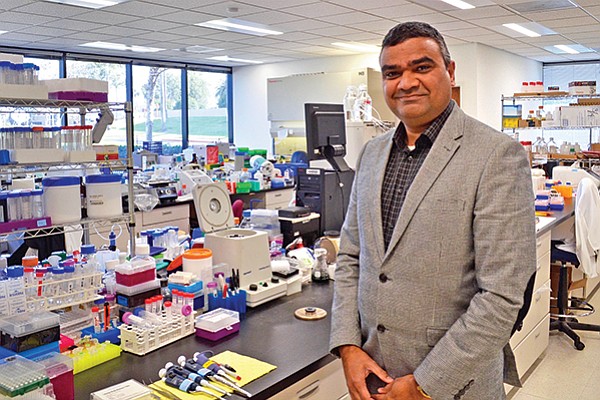 San Diego — Clients of Carlsbad's Triangulum Biopharma include the likes of NASA, or National Aeronautics and Space Administration. Yet Triangulum won't comment on the specific nature of the contract.
Such secrecy is typical in the confidential world of preclinical testing on rodents, where Triangulum has found a niche. In contrast to the wide net cast by most companies in the animal testing space, Triangulum designs and analyzes rodent studies for liver and metabolic drug candidates.
"Every big giant in the industry is actually looking at coming out with a drug for a liver disease," said Suresh Chintalapati, the company's president and chief business officer. "From a business perspective it made sense."
Chintalapati and two other executives bring a combined 60 years of research and pre-clinical development experience, mainly in metabolic and liver disease. The company also has six part-time employees.
NASH Treatment
Triangulum is riding a wave of drug candidates for nonalcoholic fatty liver disease, for which there are no approved treatments. It's linked to obesity and affects about one in five U.S. adults. The market for treating the disease's progression — nonalcoholic steatohepatitis, or NASH — is projected to skyrocket, from $618 million in 2016 to $25.3 billion in 2026, according to research firm GlobalData.
"We understand the science behind it, and are actually able to give our inputs and help the process of drug development," Chintalapati said.
The U.S. Food and Drug Administration regulates and generally requires animal testing on rodents before trials in humans. The cost of in-house testing can be prohibitive, so biotechs turn to contract research organizations.
More than a year old, Triangulum didn't disclose 2017 revenue. But last year it executed 36 projects, which range from one to eight months, and can cost up to tens of thousands of dollars each.
Triangulum runs analysis at the Carlsbad hub Bio, Tech and Beyond, and plans eventually call for its own rodent lab. For now, it leases rodent vivarium space from San Diego's Explora BioLabs, a company that appears similar on first glance, though with distinct differences.
Explora oversees animal studies targeting a broad swath of disease areas; it offers companies day-to-day care, such as rounds and replacing cages; and it has a much larger footprint, with five locations in San Diego and two in San Francisco.
Given the specialty in liver and metabolic drug candidates, Chintalapati doesn't see direct competitors locally, but somewhat similar operations exist, mainly internationally. Triangulum positions itself as hyper-responsive — as most clients are in Southern California — which isn't possible for companies in other time zones.
Prev Next