NEW STATE PLAN CHANGES FORMULA FOR DETERMINING LEVEL OF FUNDING FOR COMMUNITY COLLEGES
Improving Outcomes
Thursday, June 28, 2018
San Diego — No longer content to tie support for community colleges primarily to enrollment levels, state officials have approved a new funding formula that will require the schools to demonstrate how well they are performing.
"From a business point of view, this puts the emphasis on economic development," said Kindred Murillo, superintendent and president of Southwestern College in Chula Vista. "We need to focus on making sure students get through [school] quickly and achieve viable and middle class wages."
The funding change is designed to address the fact that only about half of community college students in California earn a certificate, a degree, or transfer to four-year colleges after six years of attendance. The Legislative Analyst's Office reports that the system historically has had low levels of student completion.
According to the National Conference of State Legislatures (NCSL), the current attendance-based funding model provides incentives for colleges to provide access to higher education but doesn't guarantee that students will complete their educations.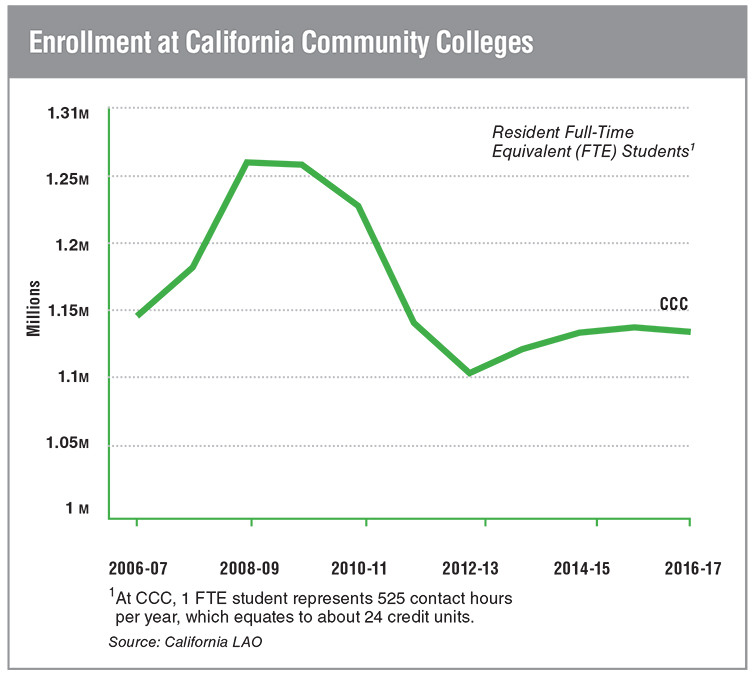 A Growing National Trend
Around the country, states increasingly are requiring community colleges to demonstrate their performance in order to obtain government funding. The NCSL reports that 35 states have funding formulas or policies that allocate a portion of funding based on performance. Indicators may include course completion, the time it takes to earn degrees, transfer rates to four-year institutions, or the number of graduates who come from low-income and minority households. Two states now are transitioning to some type of performance-based funding.
Because community colleges are workplace training grounds and "the engine that fuels regional economies," attendance-based funding is bad for businesses, said Ryan Smith, executive director of The Education Trust-West. The nonprofit organization works to maximize the educational experience of all students, pre-kindergarten through college. Based in Oakland, it is affiliated with the Education Trust in Washington, D.C.
Smith holds that California's new funding formula will require community colleges to think differently about how they are meeting student needs. To receive state funding, schools in coming years will need to demonstrate how they are reaching out to underrepresented students. These include students from minority and low-income households.
"If we want an economically vibrant state, we must focus on building the skill sets of these students," he said.
A New Business Model
The current business model for community colleges requires them to keep enrollments high in order to receive adequate state funding. Going forward, there will be greater emphasis on how successfully the students are able to complete programs.
Prev Next