SOFTWARE: MITEK'S TOOLS TAKE VERIFICATION TO NEXT LEVEL
Identifying Opportunity
Monday, June 25, 2018
San Diego — On the internet, nobody knows you're a dog — or so goes the early 1990s adage about online anonymity.
For companies conducting business online, that's a problem. It's one that San Diego software company Mitek Systems has developed algorithms to help solve.
It is a new use for the technology Mitek has been deploying in the service of financial institutions since the early 2000s. CEO Jim DeBello says the growth of its ID verification services will spur the company to greater than 30 percent revenue growth this year and continue to broaden its customer base into new industries and geographies.

MITEK SYSTEMS, INC.
CEO: Jim DeBello
Revenue: $45.4 million in fiscal 2017; $34.7 million in fiscal 2016
Net income: $14.1 million in fiscal 2017; $2 million in fiscal 2016
No. of local employees: 119
Headquarters: San Diego
Year founded: 1986
Stock symbol and exchange: MITK on Nasdaq
Company description: Software company using artificial intelligence algorithms for digital identity verification and mobile capture
Mitek was founded more than 30 years ago around technology it bought from HNC Software, the fraud detection company that was founded by a UC San Diego professor and later acquired by FICO. For years it provided back-office data security services to the U.S. government, shielding communications at outposts, such as embassies worldwide. But when the Cold War ended, so too did those government contracts.
When DeBello was hired in 2003, the company had nine employees, he recalls.
Remote Deposit
DeBello introduced Mitek's flagship product, which uses imaging to allow banks to offer customers the options of depositing a check remotely by taking a photo of it with a smartphone.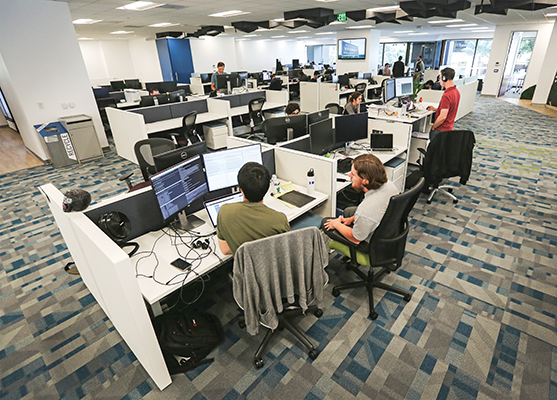 "We really are a critical component of the workflow to enable commerce among consumers," he said. "We're a B2B company that touches the consumer, and we learned that from our mobile check deposit product."
Today about 6,200 banks, including the top 10 in the U.S., use that technology; Mitek processes billions of checks yearly. And that business isn't slowing: DeBello said it continues to grow 15 percent to 20 percent yearly. The company today has more than 300 employees worldwide.
But it's the deployment of identity verification solutions that DeBello believes will fuel even more rapid growth in years to come.
"We think we hit a vein to leverage the technology into a new use case," DeBello said.
Algorithms
Businesses that are looking to transact with customers online and want to confirm their identification can use Mitek's algorithms to confirm whether the ID they provide is authentic, and whether it belongs to the person providing it.
Prev Next