PROPERTY: RARE COALITION PLOTS STEPS FOR EXPANSION
Convention Center Is Ready If It Gets Go From Voters
Monday, June 25, 2018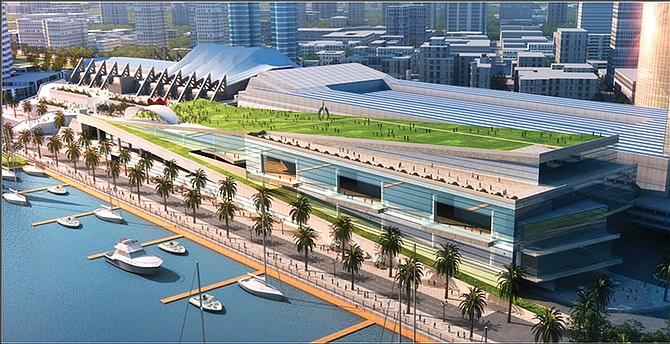 continued — "It's a huge park. People don't appreciate that sometimes," Cabrera said.
A key hurdle to the expansion was removed in June with a deal for the city and the Port of San Diego to pay developers of a planned hotel about $33 million to regain control of land needed for the expansion.
The port owns the land but port tenants Ray Carpenter and Art Engel had long held a lease on it. Under the name Fifth Avenue Landing, they were in the process of seeking port's approval to build an 850-room hotel tower and 565 bed hostel on the property.
No Vote Puts Project Back in Play
Should voters reject the November ballot initiative to expand the convention center, Fifth Avenue Landing could proceed with the hotel project.
"Part of the deal is that we will keep negotiating a lease for the hotel development and not lose any time," said Rafael Castellanos, chairman of the Board of Port Commissioners.
"If the citizens' initiative does not pass, the port will expedite the review of the hotel project," Castellanos said. "Everything is on to the citizens' initiative at this point. We're all waiting to see what happens there. We're in a state of suspense."
Spending on Homeless
The ballot initiative would raise $6.4 billion, which includes $2 billion that would be earmarked for permanent housing for the homeless and homeless services.
An additional $600 million would go to road repairs.
The money would come from raising the 12.5 percent hotel room tax by a range of 1.25 percent to 3.25 percent, with the rate highest for hotels closest to the convention center and lower for those farther away.
The base tax rate is 10.5 percent, with 2 percent added in hotels of 70 rooms or more.
It was the mix of how the extra tax money would be spent that resulted in an unusual alliance of disparate groups, including organized labor, developers, business groups, and homeless advocates forming "Yes! For a Better San Diego" to promote the ballot measure.
"There was a lot of common interest," said Keith Maddox, deputy trustee of the San Diego & Imperial Counties Labor Council.
"It took a while for everybody to talk through things that were important. For us, it's certainly the jobs," Maddox said.
The expansion is projected to create "hundreds if not several thousand jobs over the next several years," Maddox said.
The measure's funding for affordable housing and programs for the homeless also appeals to labor groups.