PROPERTY: RARE COALITION PLOTS STEPS FOR EXPANSION
Convention Center Is Ready If It Gets Go From Voters
Monday, June 25, 2018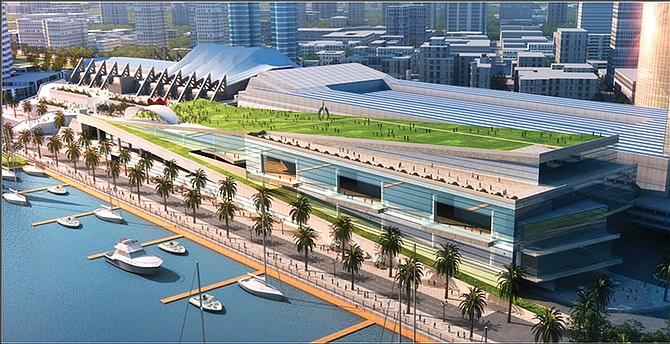 San Diego — Preliminary construction on a $685 million project to expand the San Diego Convention Center could start as soon as next summer — pending voter approval of a November ballot measure to pay for it.
A deal securing the land needed for the expansion was concluded this month — resurrecting plans which were shelved after a court in 2012 rejected an earlier financing plan.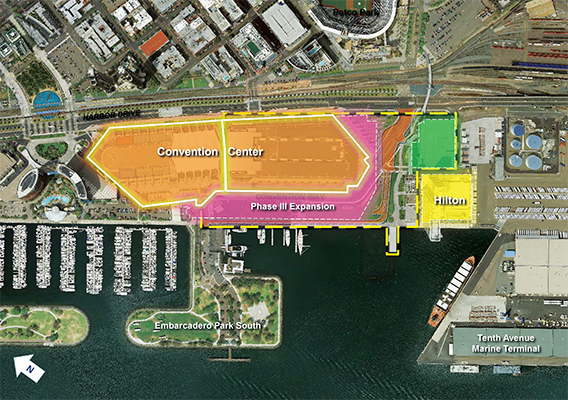 Although the timing is still being set, work on the expansion would be fast-tracked, with officials mapping out an ambitious schedule. First Step
The first step would be to renew a design contract that had lapsed with Fentress Architects, said San Diego City Engineer James Nagelvoort.
"They need to dust off the work they did years ago," Nagelvoort said. "The design was never completed. We never got to the stage of full construction plans."
At the same time the detailed design work is underway, the city would solicit bids for the actual convention construction with a goal of having a general contractor on board by late spring or early summer 2019.
The first of the construction could come with the relocation of a road and underground utilities that run along the rear of the existing convention center, to be replaced by a new road that would run along the rear of the expanded center at the waterfront.
"You've got to get everything out of the way first before you start expanding the convention site," Nagelvoort said.
Avoiding Scheduling Conflicts
Work on the building itself will be coordinated with the timing of convention center activities, with construction of the expanded building expected to take 48 months, said Gil Cabrera, chairman of the San Diego Convention Center board of directors.
"It's sort of spread out over time so we interrupt operations as little as possible," Cabrera said.
One certainty is that no work on the building will begin until after Comic-Con International in July 2019, Nagelvoort said.
The center expansion would add 225,000 square feet to the exhibit space to bring the total to 840,700 square feet.
Best of the West Coast
It also would add 101,000 square feet of meeting rooms, for a total of 223,400 square feet, and 80,000 square feet of ballroom space, for a total of 160,000 square feet.
Supporters said San Diego would have the largest contiguous exhibit hall and the largest ballroom on the West Coast.
The kicker for Cabrera is a five-acre rooftop park that would be added to the expanded section, which he called "pretty rad."
Prev Next