Bill Threatens Progress Where Rubber Meets Road
Sunday, June 24, 2018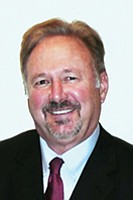 San Diego — Since vulcanized tires were invented more than a century ago, the common complaint is what happens to a tire once it has served its useful life. Billions of old tires are buried in landfills throughout the world and will languish there for thousands of years because they do not biodegrade. In California, after spending hundreds of millions of dollars over the past several decades, we are on the threshold of solving the so-called "waste" tire problem.
Armed with $35 million annually from a special fee on the sale of every new tire in the state, California now diverts close to 90 percent of its old tires from landfills and is more than halfway toward reaching a state goal of recycling 75 percent of California-generated waste tires. "Recycling" tires means not burying them, not burning them for fuel, and not exporting them, but turning them into practical and value-added products.
Most of that success is the result of a waste tire grant program offered to California cities, counties, and school and park districts by CalRecycle, the state's recycling department. Over the past dozen years the program has provided monetary grants to help offset the slightly higher initial cost of such popular products as rubberized asphalt, crumb rubber infill in synthetic turf, rubberized running tracks, and tire-derived "aggregate" that is used in lieu of gravel.
In San Diego County, there are approximately 150 fields with crumb rubber infill, and its cities, parks, and schools have received over $1 million in tire grants for them and such things as playground covers, rubber mulch, and running tracks made from processed waste tires.
CalRecycle has also provided cities in San Diego County with a whopping $5.15 million in tire grant funds to help pay for the cost of 27 rubberized asphalt concrete (RAC) projects. From those projects, transportation officials, public works directors, and the public get to test and experience the difference between RAC and conventional asphalt.
Better Roads
RAC not only recycles more than 2,000 waste tires per mile, but anyone who drives on roads resurfaced with it quickly finds that it is smoother, darker, and quieter than conventional asphalt. It is also safer, for the crumb rubber mixed with asphalt makes for a more porous road, reducing the risk of skidding or hydroplaning. Ultimately, RAC saves Caltrans and local government money by lasting twice as long as asphalt and requires fewer sound walls alongside its roadways because of the product's decibel-lowering qualities.
Prev Next