ENERGY: THEY SEE CO. AS UNFOCUSED CONGLOMERATE OF DISPARATE BUSINESSES
Activist Investors Seeking Major Changes at Sempra
Wednesday, June 20, 2018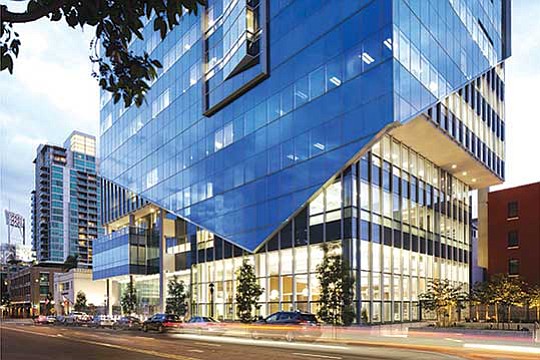 continued — A specially formed committee should undertake a top-to-bottom review of Sempra's business, Elliott and Bluescape said.
San Diego-based Sempra is parent to San Diego Gas & Electric and Southern California Gas Co. It has a variety of other energy businesses which operate nationally and internationally.
After initial research, the activists suggested that Sempra hold on to its U.S. utilities while spinning off its liquefied natural gas business to shareholders. The spin-off would include Sempra's interests in Cameron LNG and Port Arthur LNG.
They also suggest the corporation divest itself of the Sempra Renewables unit as well as its foreign holdings, namely IEnova in Mexico, Chilquinta Energia in Chile, and Luz del Sur in Peru.
In addition, they call on Sempra to reduce its debt.
Elliott and Bluescape make their case for change at Sempra on the website SustainableSempra.com.
"Despite the attractive characteristics of its businesses, Sempra shares are deeply undervalued by the market," the investment firms said in a letter to the Sempra board.
"In our view, this persistent and substantial undervaluation stems from a focus on sheer size that has permeated management and board thinking. This has led to the creation of a conglomerate structure consisting of disparate businesses grouped together with no compelling strategic or financial rationale. The resulting complexity and management and board detachment has introduced numerous risks for all key stakeholders."
In a more detailed presentation, the two investment firms said the recent natural gas leak at SoCalGas' Aliso Canyon storage facility near Los Angeles is "an example of 'eye off the ball' mismanagement of core operations."
Paul Singer founded and runs Elliott Management. The firm recently got involved in Qualcomm Inc.'s bid for NXP Semiconductors N.V. In December, Elliott made the case that Qualcomm's bid for NXP was too low, given NXP's potential as a maker of automotive and industrial semiconductors. Qualcomm (Nasdaq: QCOM) increased its bid for NXP (Nasdaq: NXPI), which still awaits the approval of Chinese regulators as of this deadline.
Bluescape describes itself as a private investment firm focused on value-oriented investments in the upstream oil and gas and power industries.
"Despite SRE's recent interest in selling assets, we largely see the idea of divesting/spinning everything but the utilities as the polar opposite of the intended direction of new management," J.P. Morgan's Turnure said in his June 11 note.
Turnure lowered his price target from $105 to $103 per share.
Evercore ISI analyst Greg Gordon raised his price target on Sempra from $117 to $130 per share.
"Our updated $130/share 12-month target price presumes that SRE will ultimately engage with these investors" and that will increase the value of the company, he wrote.
Prev Next