DINING: GRITTY PAST, FUN, SOCIAL ATMOSPHERE SHOULD FIT IN EAST VILLAGE
New Restaurant Has The Right Hooks
Tuesday, June 19, 2018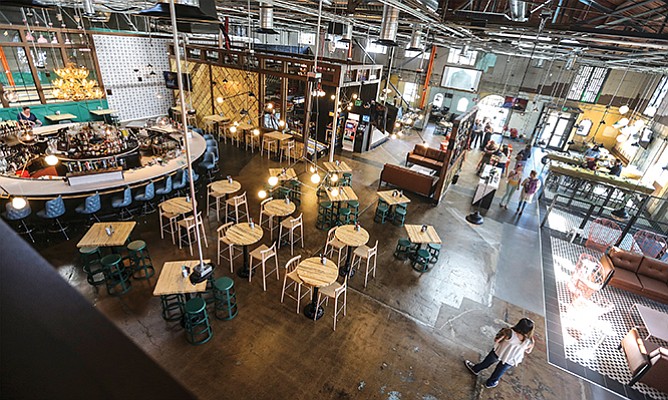 continued — Touches of the arena's history are scattered throughout San Diego Punch Bowl Social, from the collection of ringside bells that hang behind a counter at the entrance to the mats that were the floor of the boxing ring.
The mats have been used to make up the ceiling of an alcove used for darts.
Ticket windows on the outside wall facing E Street were left in place.
Even burnt lumber from a 1938 fire that threatened to destroy the arena have been put to use, forming the rear wall of a mezzanine section used for bocce ball.
"It gets us kind of excited to repurpose some of these remnants from a building that has such a great history," Thompson said.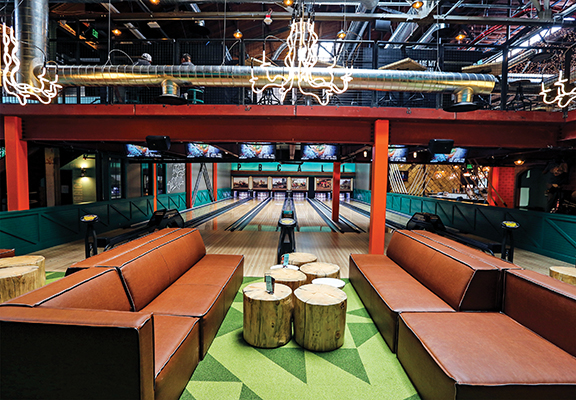 Ringside Fete
As a further nod to the arena's history, Thompson staged a one-night round of boxing in 2016 before the renovation began.
Built in 1924 when California first legalized boxing, the renovated building with 23,500 square feet of space is cavernous — a look which Thompson has capitalized on, leaving most of the building wide open with room for up to 1,050 people at once.
When he took it over, the building had a mish-mash of mezzanine structures which had been used for storage, and piles of debris.
Thompson gutted the building, built a new mezzanine along the south wall and installed an open kitchen where diners can watch their meals being prepared, and three bars, including a large circular bar near the entrance meant to encourage people to interact. He said the renovation of the arena cost more than $6 million, but he declined to give a more precise figure.
Thompson explained the look of his restaurants as a mix of Victorian, industrial, mid-century modern and mountain lodge.
'Platypus' Model
"We like to say it's like a platypus – it's awkward but it has a place in nature," Thompson said.
Menu offerings designed by celebrity chef Hugh Acheson include a variety of tacos, fried chicken, chili relleno, three cheese enchiladas and platters meant to serve three to four people.
Acheson described the mix as "Mex-Tex," a takeoff on Tex-Mex, leaning more to Mexican than Texas cuisine.
The idea is to have something for every palate to produce "kind of a veto proof" menu, Acheson said, adding that, "In an environment such as this, we're out to just make people happy."
Family Friendly
Thompson said he wants his restaurants to be family friendly.