MEDICINE: HIGH VOLUME A MUST; ADOPTION BECOMING NORM
Robotic Surgery Rides Tech Momentum Wave
Monday, June 18, 2018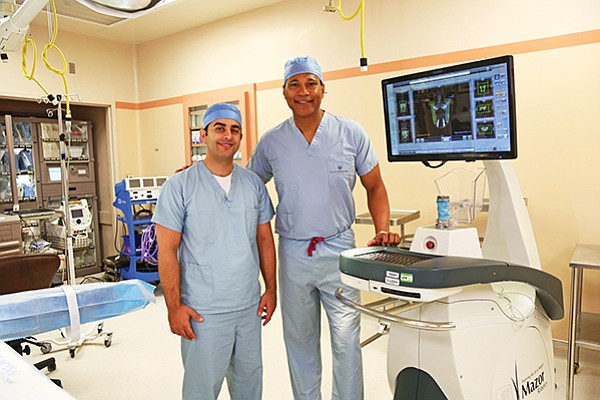 San Diego — Sharp Healthcare recently touted the first robot-assisted total knee replacement in San Diego. Online, Scripps Health claims to have the region's fastest growing robotic surgery program.
Palomar Health's website brags about performing robotic surgery since 2007, longer than "any other medical facility in the community."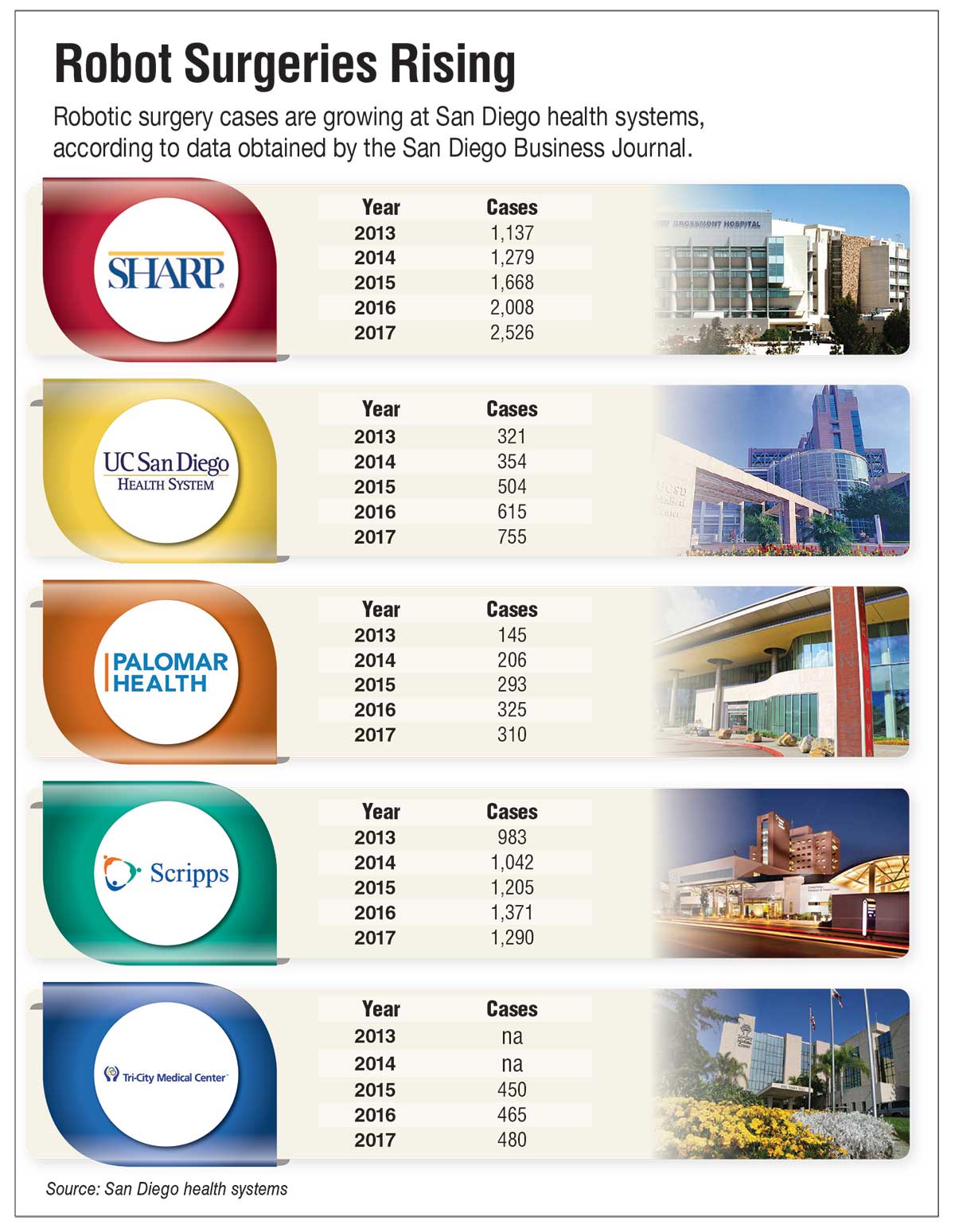 In San Diego hospitals, robots are on the rise, judging by splashy marketing and an increase in robotic surgery cases, per data obtained by the San Diego Business Journal. Hospital officials point to clamoring among patients and surgeons for the approach, crowded with regional competition.
They also say the technology makes clinical and fiscal sense — that is, for the right surgeries. This follows national studies questioning high costs and whether robots deliver better results for certain procedures.
Robotic surgery, something of a misnomer, typically entails a surgeon looking through a viewer at patient anatomy, while remotely controlling robotic arms attached to surgical instruments. Surgeons liken it to a video game, in that the technology precisely mimics hand and foot controls.

This method builds on minimally invasive laparoscopic surgery, for which a small camera and instruments enter through minor incisions, replacing open surgeries.

Starting the Race
In 2000, the first robotic surgery system, da Vinci, won regulatory approval, unleashing a national arms race for the latest tech.
Dr. Christopher Kane, who chairs UC San Diego Health's urology department, said it's fair to criticize the early days of robotic surgery, when adoption outpaced medical evidence.

The health system's comfort level rose following positive clinical data for some procedures. In recent years, Kane said at UC San Diego Health the technology generally shortened hospital stays and lowered complication risks.
Numbers bear out robots finding favor: The health system reported 755 robotic surgeries in 2017, a 135 percent increase from 2013.
"So what I think it's migrated to now that we're 15 years into the maturity of robotic surgery is surgeons have come to understand where it really seems to provide value," Kane said.
As one example, he said the dexterity of a robot makes it best for partial nephrectomy, a tough procedure involving the removal of a kidney tumor while leaving the rest of the organ intact.
But da Vinci robots can run as much as $2 million, along with an annual service contract. Kane said the costly capital investment is worth it.
"The argument that makes that reasonable is if it decreases the length of stay or decreases the transfusion rate and gets people back to work quicker," he said.
Prev Next