PHARMA: SCIENTIST.COM DOUBLES REVENUE TO $50M
Co. Creates, Facilitates CRO Marketplace
Sunday, June 17, 2018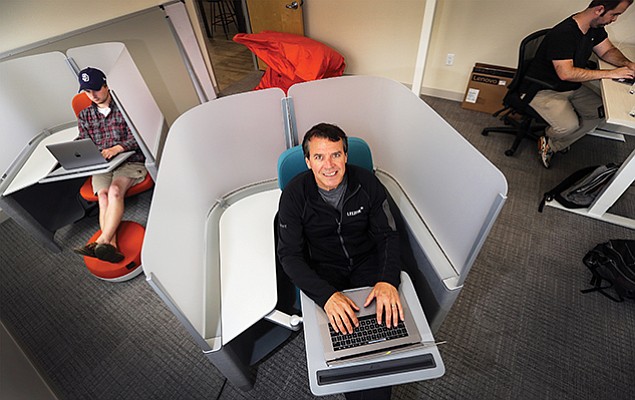 San Diego — Stationed at his cream-colored desk, Kevin Lustig retrieves an image on his computer that charts the emotional stages of an entrepreneur. They range from "WHYY?!" to "I'm on top of the world!" to an expletive cursing life.
Lustig, the CEO of Scientist.com, said he's been through them all, several times over, on the road to the company's explosive growth. But finally, he can relax a little.
SCIENTIST.COM
CEO: Kevin Lustig
Revenue: $6 million in 2015; $23.07 million in 2016; $50.27 million in 2017
Employee count: 65
Headquarters: Solana Beach
Company description: Scientist.com set up an Amazon-like marketplace that connects pharmaceuticals with niche drug development firms, called contract research organizations, or CROs. Increasingly pharmaceuticals outsource work to CROs to save money.
"We're an overnight success 12 years in the making," said Lustig, who also co-founded Scientist.com.
The company, which operates an Amazon-like platform for outsourcing drug development is among the region's fastest-growing private companies. Scientist.com reported $50.27 million in 2017 revenue, a whopping increase from $23.07 million in 2016 and $6 million in 2015.
The Solana Beach company, which also has a Boston and Cambridge, England, office, employs nearly 65.

Yet it took a while to reach a formula for success.
Near-Death Experiences
"We had two near-death experiences where we ran out of money. Three major financial model pivots. We've been left at the altar a week before Christmas for our first giant deal that we worked for a year on," Lustig said.
Founded in 2007 as Assay Depot, Scientist.com links pharmaceuticals to contract research organizations, or CROs, which are boutique firms that shoulder critical parts of drug development.
Scientist.com draws more CRO bids than the traditional method of calling familiar vendors to request prices, and pharmaceuticals can review side-by-side quotes. That's significant because CRO bids can vary widely — one firm may ask for $5,000 while another wants 10 times that.
Platform's Advantages
"We believe that using a platform like ours, taking advantage of all the efficiencies of a marketplace, that we reduce the cost of drug discovery," Lustig said. He added lower development costs should spark research into areas once economically unfeasible, as well as translate downstream into reduced drug prices.
Services found on Scientist.com span innovative approaches like bio-printing to moving single cells via acoustic tweezers. "It's all the latest, coolest, greatest technologies all in one place," Lustig said.  
Similar to e-commerce websites, pharmaceuticals vet bidders by perusing ratings and qualifications. The platform also streamlines a major step that can hold up deals by six months: legal agreements.
Prev Next