DEFENSE: PENTAGON POLICIES MADE SERVICES SECTOR MORE DIFFICULT TO OPERATE IN
Cubic Completes Sale of Global Defense Services
Tuesday, June 12, 2018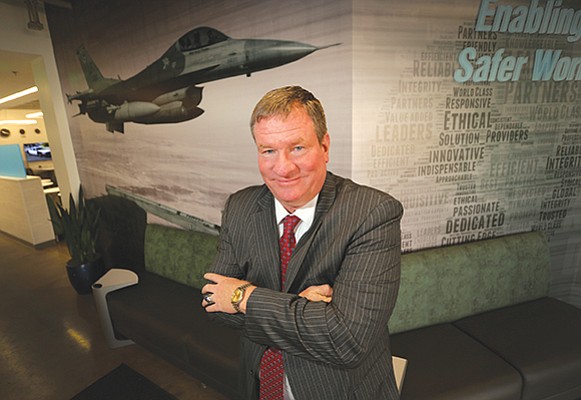 San Diego — Facing ever-smaller margins in its U.S. military services business, Cubic Corp. exited the space, wrapping up the sale of its government services business to McLean, Virginia-based Valiant Integrated Services on May 31.
"We have other, better choices," CEO Brad Feldmann said in a recent interview, alluding to the Kearny Mesa company's remaining, technology-focused pursuits. Cubic makes defense communication and training technology, as well as technology for public transit agencies and highway departments.
The unit Cubic sold, called Cubic Global Defense Services, has approximately 3,500 employees working in 10 countries. The business unit's fiscal 2017 revenue was $378 million.
The buyer, an affiliate of GC Valiant LP, is paying $135 million cash. Some $3 million of contingent consideration is tied to the services business winning certain contracts in the next 12 to 24 months.
CUBIC CORP.
CEO: Brad Feldmann
Revenue: $1.49 billion in fiscal 2017; $1.46 billion in fiscal 2016
Net loss: $11.2 million in fiscal 2017; net income of $1.7 million in fiscal 2016
No. of local employees: More than 1,000
Headquarters: Kearny Mesa
Year founded: 1951
Stock symbol and exchange: CUB on New York Stock Exchange
Company description: Defense contractor and mass-transit technology provider
Cubic's Next Moves
Feldmann said Cubic expects to use the funds to pay down debt. The corporation is also evaluating a number of companies, looking for synergies. While he would not name specific targets, Feldmann said Cubic would like to grow its NextCity mass transit tech business; build its global military training business; and grow its military communications business. (The latter specializes in what the Defense Department calls C4ISR, short for command, control, communications, computers, intelligence, surveillance and reconnaissance.) Cubic is a market leader for those tech-driven businesses, the CEO said.
Cubic's move is a reaction to a change in the way the U.S. military buys services.
Under the new policy, "it was a race to the bottom on margin," Feldmann said.
In recent years the Pentagon separated its contracts for training technology — a Cubic specialty — and the service contracts to operate such technology.
To compete effectively in this new environment, Cubic would have had to buy other companies to grow its domestic defense services business to "north of $5 billion," Feldmann said. Cubic's total annual revenue is about $1.5 billion.
The business that Cubic sold specializes in training, operations, intelligence, maintenance, technical and other support services for the U.S. government, its agencies and allied nations. The divested business worked on systems for which Cubic was not an original equipment manufacturer.
Pentagon Policies
Though Cubic announced the sale in mid-April, it signaled its direction in its annual securities filing in November. With the Pentagon budget cuts of recent years (including the budget-balancing effort known as sequestration), the U.S. government has been increasingly steering service work toward small businesses, Cubic said.
The Pentagon "continues to use lowest price, technically acceptable evaluation methods to drive down price in competitions," the business said in its securities filing. "This has put significant pressure on profit expectations, has diluted our overall services margin, and has caused us to reevaluate whether we will continue to bid some programs that fall within our core competencies."
One cornerstone program for Cubic Global Defense Services is the elaborate rehearsal exercises at Fort Polk, the U.S. Army post in central Louisiana. While there, Army units meet up with actors who take the roles of people the soldiers might meet while deployed.
Raymond James & Associates Inc. was the investment banking adviser to Cubic on the sale. Holland & Knight LLP was legal counsel.
"The close of our CGD Services business divestiture to Valiant is an important step for Cubic as we work to ensure we are best positioned to drive sustainable long-term value for our customers, employees and shareholders," Feldmann said in a prepared statement. "As we continue to reshape and strengthen our portfolio of businesses, we will focus on building market-leading positions where we can leverage our technological and thought leadership to provide innovation-driven solutions to our customers' advantage."
Cubic continues to provide services to militaries in the United Kingdom, Canada, Australia, Saudi Arabia and countries in the Far East.
Kearny Mesa-based Cubic reported $1.49 billion in sales in fiscal 2017, up from $1.46 billion the prior year. Shares closed at $70.00 on June 5, near the high end of their 52-week range of $39.58 to $72.43.