DINING: EATERY PLANS TO ADD 10 TO 15 LOCATIONS IN A YEAR
Luna Fine Tunes Food, Décor as It Expands
Monday, June 11, 2018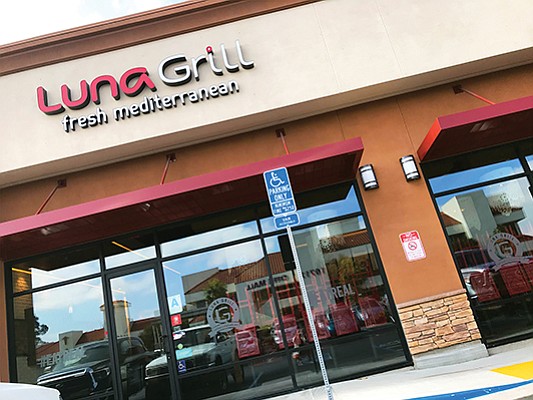 continued — REAL Certified
Pourteymour believes her restaurants are thriving because they serve uncomplicated, basic food like grilled chicken, rice and salad that is healthy and tasty and can be enjoyed by the whole family. In 2015, Luna Grill became REAL Certified, becoming the first non-full-service restaurant to do so in Southern California. The United States Healthful Food Council (USHFC) developed REAL Certified to be the "trusted, nationally-recognized mark of excellence for food and food service operators committed to holistic nutrition and environmental stewardship." REAL stands for Responsible, Epicurean, Agricultural, Leadership.
"Luna Grill is basically an extension of our home," Pourteymour said. "It is kind of geared toward replacing people's kitchens. With everyone being busy, it is hard to find time as working adults to do all the grocery shopping, go home, chop all the veggies, clean all the food and cook it. We wanted to make wholesome, better-for-you food that you could pick up several nights a week for you and your family and feel great about it."
That's why Pourteymour knew there couldn't just be one Luna Grill, and, in 2008, decided to expand, opening two more restaurants then. "We had a lot of demand, with people asking us to open in other parts of San Diego," she said. "And, although people were nervous about the economy taking a downward turn around that time, I knew we would be fine because, although people weren't going to be going to super expensive restaurants, they would still eat out and they still wanted good value. For us, it was a great time."
Just last year, Luna moved into a bigger, 10,500-square-foot headquarters office space in Carmel Mountain Ranch to accommodate the growing corporate staff, after outgrowing its former office at University Towne Center. In the last month, the company has hired five to six more people with the expectation of adding more, and, maybe, moving to yet another bigger space in the near future.
Private Equity
Recently, to help with the growth of Luna in existing and new markets, the Pourteymours partnered with private equity group Perella Weinberg, from which it received an equity investment of an undisclosed amount. Perella Weinberg is now a shareholder in the restaurant. In 2016, Luna secured nearly $30 million in financing from CapitalSpring, a private investment firm focused on the branded restaurant sector, to aid its ongoing growth strategy.
Pourteymour says there are no plans for an initial public offering, although she isn't completely against it in the future if it makes sense for the company. And, while all Luna Grill operations are company-owned and not franchised, Pourteymour says she could consider franchising down the road.
Prev Next