DINING: EATERY PLANS TO ADD 10 TO 15 LOCATIONS IN A YEAR
Luna Fine Tunes Food, Décor as It Expands
Monday, June 11, 2018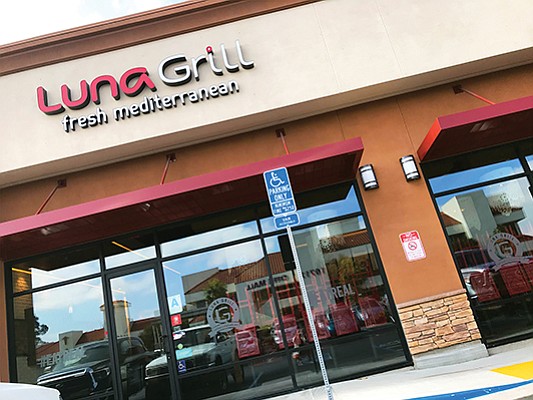 San Diego — For Maria Pourteymour, co-founder and chief cuisine officer of San Diego-based Luna Grill Restaurants LLC, the love for good, simple yet high-quality food has been a tradition passed down through her family, from generation to generation.
LUNA GRILL RESTAURANTS LLC
Founders: Maria Pourteymour and Sean Pourteymour
No. of Employees: Nearly 1,200 (50 are in corporate headquarters at Carmel Mountain Ranch)
Year Founded: 2004
Revenue: Target growth rate is 25 percent to 30 percent per year. Sales of nearly $27 million in 2015. In 2016, the brand had $36 million in sales, according to restaurantbusines....
Company Description: A cross between a fast-casual and full service sit-down restaurant that offers wholesome Mediterranean cuisine
"My grandparents had a restaurant in their village in Greece and my parents had their own food business when I was growing up," said the native San Diegan, who is a self-taught chef. "I'd be in my grandmother's business helping her cook or at my parent's restaurant through my formative years. The way my grandmother and my mother cooked and baked, they held such high standards. If the dessert wasn't excellent, it just wasn't served. That's how I was raised, and that high standard translates into my work and into my life."
So, in 2004, after moving to a new neighborhood in San Diego and noticing there weren't many healthy food options there, 43-year-old Pourteymour and husband Sean Pourteymour, chief executive officer of Luna Grill, who were running a successful car repair shop at the time, opted to sell their business and open their own restaurant.
Locations Corporate Owned
Today, Luna Grill has 45 locations — all corporate owned — in Southern California, Inland Empire and the Dallas-Fort Worth area. Maria Pourteymour, who has two daughters, says the plan is to add 10 to 15 new locations in the next year, potentially in new markets, and continue to add the same number of restaurants every year moving forward. Additionally, new items will be added to the menu, with plates at around $12, and all Luna Grills will get a facelift with new décor to match the revamped food lists in coming weeks.
While Luna Grill is a privately held company and does not disclose sales, its target growth rate is 25 percent to 30 percent per year. Luna Grill now employs about 1,200 companywide, including 50 housed at its headquarters in Carmel Mountain Ranch. A 2016 San Diego Business Journal article said Luna Grill posted sales of nearly $27 million in 2015, more than doubling its revenue from just two years prior. According to restaurantbusinessonline.com, Luna Grill had $36 million in sales in 2016. And, as per Fast Casual 2017 Top 100 Movers & Shakers list, on which the eatery landed at No. 5, the brand reported a 19 percent increase in sales for that year. The list is sponsored by Oracle Hospitality and recognizes innovative restaurant brands and executives shaping the fast casual segment. Although, Luna positions the restaurants as a "luxe-casual" option, differentiating from the booming fast-casual model with meals made to order and served to the table, and an absence of disposable tableware or flatware.
Prev Next