Grants Aim to Be Game Changers for Chula Vista's Workforce
Sunday, June 10, 2018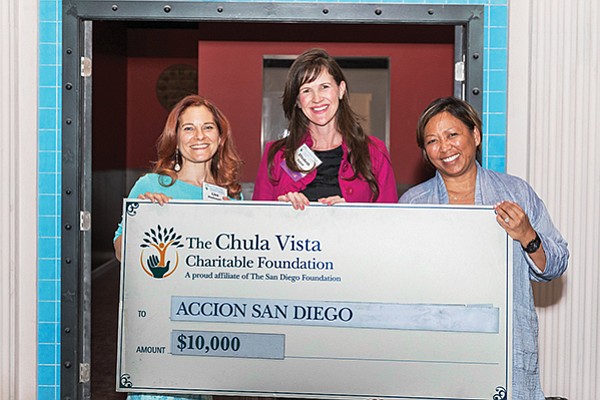 San Diego — Chula Vista Charitable Foundation, an affiliate of The San Diego Foundation, announced that. at the 9th Annual CVCF Grants Celebration, $55,000 in grants are going to benefit Chula Vista residents of all ages and backgrounds for job training and workforce development resources. The grants were announced at the Reminiscence Therapy facility in the Glenner Town Square.
By investing in programs that facilitate job growth and development in Chula Vista, CVCF is creating a direct link between charitable giving and the future of the region.
Debbie Espe, CVCF Board chair said: "...By investing in the people that make up our workforce today, and into the future, we are strengthening that commitment to the community."
The 2018 grantees include: Accion San Diego ($10,000); Outdoor Outreach ($9,835); San Diego Futures Foundation ($5,000) and South County EDC ($30,165).
Since its inception, members have granted more than $300,000 to nonprofit organizations in the community. In addition, earlier in 2018, CVCF and its members celebrated a milestone as it surpassed $500,000 in its permanent endowment fund to support programs in Chula Vista in perpetuity. Visit sdfoundation.org.
• • •
Mama's Kitchen announced that it raised $170,000 at its 27th Annual Mama's Day held recently at the Hyatt Regency La Jolla at Aventine. The funds raised by 600 attendees to support Mama's Kitchen will allow the organization to continue to fulfill its mission by providing more than 58,000 meals free of charge to local women, men and children vulnerable to hunger due to HIV, cancer or other critical illnesses. 
Presented by Nordstrom and hosted by Sycuan Casino, the evening featured dishes from 57 top of the line San Diego restaurants, hotels, catering companies and executive chefs, including newcomers Farmer & The Seahorse, Pisco Rotisserie, Smokeyard BBQ and Chop Shop. Longtime Mama's Kitchen supporter Sam "The Cooking Guy" Zien returned to Mama's Day as this year's culinary host. VIP guests at a private pre-party event were surprised by a flash mob performance from the San Diego Gay Men's Chorus who performed "Battle Hymn of the Republic."
Alberto Cortés, executive director of Mama's Kitchen said: "With these funds, we will be honored to touch more lives and provide nutritious meals to thousands of San Diegans in need." Visit mamaskitchen.org.
• • •
The Scripps Research Institute announced that Gilead Sciences' Chairman of the Board of Directors, John C. Martin, has joined its board of directors. Widely respected for his scientific and business leadership, Martin was named best CEO in 2015 by the investment research company Morningstar Inc. As CEO of Gilead, a position he held for 20 years, Martin led the development of HIV and hepatitis therapeutics, overseeing the expansion of the company's drug portfolio to 24 marketed products. Through the Gilead Access Program, he oversaw the distribution of medicines for HIV/AIDS, viral hepatitis and visceral leishmaniasis, a parasitic disease, to developing countries. Visit scripps.edu.
Prev Next