Coastal Home's Delicious Details Offer a Feast for the Senses
Sunday, June 10, 2018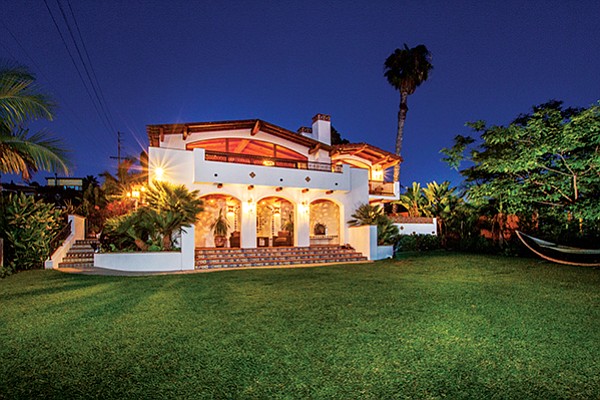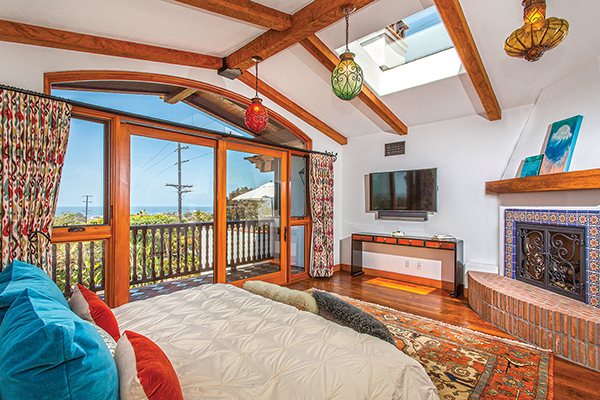 San Diego — It's apparent this home in Solana Beach is not your standard issue Spanish Colonial from the moment you pull into the driveway. The carved wooden panels on the garage door are framed by an inset stucco arch adorned with more than five dozen eclectic Spanish tiles.
The red-tile stairway with custom ironwork hand rails leads to the elaborately carved wooden front door with artistic interpretations of the sun, moon and stars. It too is inset in a stucco arch that is lined with more original tiles and compels an admiring pause.

The home is set back on its lot that rises gently up from street level, so the main living quarters are on the second story to take advantage of the 180-degree views of the Pacific Ocean.
Pete Cavanagh, a luxury property specialist and realtor with the Del Mar office of Coldwell Banker Global Luxury, has the listing on the approximately 3,614-square-foot home at 354 Glenmont Drive in Solana Beach with four bedrooms, plus den and four full baths. The asking price is $3.85 million and an offer is pending.
Cavanagh, who has been a real estate broker and appraiser for 17 years, said the woman who originally built the home in 2010 had traveled in Mexico and South America as a child with her parents and fell in love with the art and architecture.
"She knew what she wanted almost down to every detail before the architect ever got involved in it," Cavanagh said.
The architect was Brian Church, an award-winning, commercial and residential architect well known for his diverse style. Church's styles range from mid-century modern to 21st century original concepts.
The contractor was George Boyd Design + Construction in Solana Beach and the landscape designer was Krista Percival Landscape Design in Del Mar.
"The exterior of the home is a traditional Spanish-look stucco with the red mission tile," Cavanagh said. "There are a lot of decorative iron-forged light fixtures, copper roof gutters, scalloped stucco coves, hand-painted tiles, mosaics and three chimneys that are almost like their own little house at the top with decorative caps and their own windows."
When the front door swings open into a soaring foyer with a barrel-vaulted ceiling, light floods in from light wells and "borrowed-light" openings, which is a way of bringing light into a room where it's otherwise impractical.
At the end of the foyer, arched doorways lead to the living and kitchen area on the right and bedrooms on the left.
Prev Next