MEDICINE: DIVERSITY IS A MUST, BOTH IN PATIENTS AND STUDIES
Artemis Makes Patients Priority in Clinical Trials
Thursday, June 7, 2018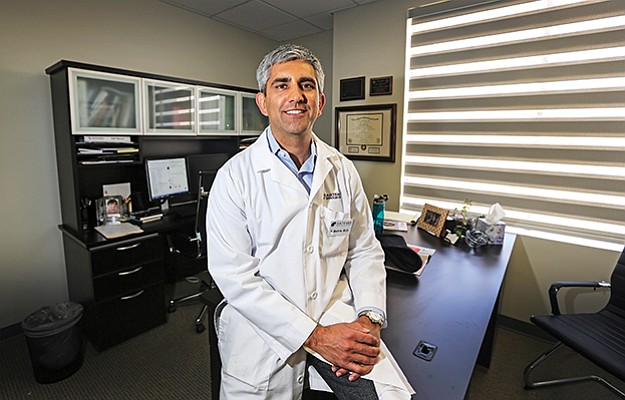 San Diego — Artemis Institute for Clinical Research helps to advance groundbreaking treatments. A challenge in this line of work: getting people in the door.
The San Diego company runs clinical trials that help scientists and regulators gauge a treatment's effectiveness. But with uncertainty or even fears over testing, Artemis makes a point to educate — and highlight the societal need.
There's also an emphasis on customer service, a mantra that may be cliché in restaurants and grocery stores, but comes across as novel in clinical trials.
"They're taking the leap here, so we need to honor their involvement in a research study," said CEO Vishaal Mehra. "It holds true for every business, and we're no different, if you deliver fantastic customer service people will come back.'"
The privately held company looks to be on to something. Artemis reported $9.7 million in 2017 revenue, a substantial jump from $6.7 million in 2016 and $4.4 million the prior year. This year, Artemis projects $11 million to $12 million in revenue.
60 Employees
The company boasts 60 employees across a Hillcrest, San Marcos and recently opened Riverside location.
The clinical trial space is fragmented, though there are a handful of major players like PRA Health Sciences. That's according to John Babitt, a partner in transaction advisory services in life sciences for Ernst & Young.
Babitt said these companies must balance quick enrollment with finding large patient sets reflective of the population. Regulators and health payers have increasingly sought inclusive data.
Demand for Diversity
Mehra cited this demand for diversity as a major reason for calling the region home. San Diego and Riverside, a tapestry of ethnicities and races partly on account of being a border region, ticks this box.
Mehra and his wife, medical director Purvi Mehra, lead the business. Being a husband-wife team jokingly earned them the nickname "the Jay-Z and Beyonce of clinical trials" among employees.
Clients have included major pharmaceuticals like Merck, Pfizer and AstraZeneca, along with San Diego biotechs such as Samumed.
"You name it we've worked with them," Mehra said.
For savings and speed, drugmakers outsource clinical trials — necessary to obtain U.S. Food and Drug Administration approval — to outside entities. Much of this work is done in hospitals, which Mehra characterized as often sterile with long waits.
Prompt Attention and Amenities
As a contrast, Artemis tries to see patients within five minutes. Study sessions can run as long as four hours, so participants receive meals and snacks. Netflix too. It's drilled into employees to go above a typical patient-doctor relationship.
Prev Next