SERVICE: COMPANY SET TO ADD THREE MORE VEHICLES BY NEXT MONTH
Shuttle Service Addresses Problems of Congestion, Climate
Wednesday, June 6, 2018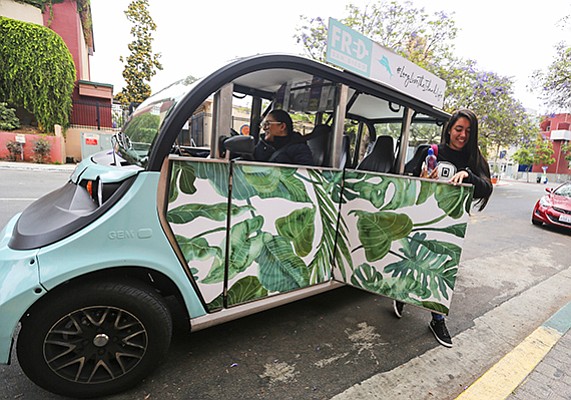 continued — FRED, which is app-based, is an on-demand service, similar in nature to Uber or Lyft — only you don't have to pay for it, Verdugo explained. "It'll pick you up wherever you want, and its footprint is the entire downtown footprint," he said.
Angela Wells, director of communications with Downtown San Diego, a nonprofit organization to advance business in the region, explained the initial idea was to give the community another transit option based more on a traditional, fixed route, bus stop-style approach.
But given the scope of downtown's 275 blocks, she said it wasn't seen as the best option.
After learning about The Free Ride, light bulbs went off.
"With how comfortable people are using Uber and Lyft from their phones, people would naturally be inclined to use this (FRED), and take them from point-to-point, rather than drop them off somewhere and having them walk eight or nine blocks to where they needed to go," she said.
Crowding Out?
Earlier this year, dockless bikes and e-scooters were unleashed onto downtown.
Several companies launched these shared riding operations, including LimeBike.
The company, in a letter to the city, said over a three month period in March, its bikes (pedal powered, electric assisted and its electric scooters) provided 21,000 riders a way to get around the city.
Despite some controversy about the bikes and scooters being left in nearly every nook and cranny around downtown, Verdugo said it's good to have mobility options for downtown.
"(It's) something that's been lacking for the past few years," he added.
Verdugo said people can utilize the dockless bikes, or use FRED. "The choice is yours: pay a fair rate to rent a bike or scooter or take a free shuttle ride."
Educating Riders
As for the controversy, Verdugo said it's partly due to the riders getting used to the dockless system.
"People are just parking these bikes and scooters on the sidewalks, laying them down," he said. "I think that as the riders continue to get educated about how to use it, I think that the problem will hopefully go away."
Wells agreed, saying Downtown San Diego is a fan of the fully electric vehicles, whether it's FRED or the dockless bikes or scooters, because it helps lead to zero emissions, which in turn, helps the city's Climate Action Plan goals.
"We certainly think that they can co-exist downtown with a bunch of varieties of transit," she said.