SERVICE: COMPANY SET TO ADD THREE MORE VEHICLES BY NEXT MONTH
Shuttle Service Addresses Problems of Congestion, Climate
Wednesday, June 6, 2018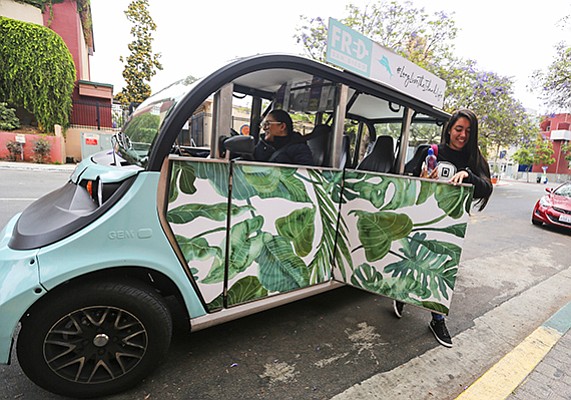 San Diego — FRED, the shuttle service that provides free rides around downtown, hasn't seen any impacts to its ridership since the rise of the "dockless" bikes (bikes that can be picked up and dropped off just about anywhere a rider wants) and e-scooters in the area since earlier this year.
According to Ben Verdugo, project manager of parking, transit and transportation with Civic San Diego, a city-owned nonprofit organization aimed at helping develop public-private partnerships that further enhance the quality of life in San Diego's neighborhoods, FRED or Free Ride Everywhere Downtown, saw its highest ridership levels in March and April.
The service, which averaged approximately 12,500 riders over the past six months, had 14,000 people going along for the free electric shuttle ride in April.
250,000 Riders
In 2016, Civic San Diego partnered with The Free Ride Inc., the Hamptons-based company that launched in 2011. The company provides free shuttle services in several other cities, including Southampton, New York, Venice, Santa Monica and others.
According to Verdugo, 250,000 riders have used FRED since its launch in San Diego, and has traveled approximately 400,000 miles with its fleet of 17 vehicles currently in operation. Verdugo said the service will add three more vehicles to its fleet by next month, and in fiscal year 2019, an additional five.
The partnership for the free ride service is in the middle of a five-year contract worth $5.7 million. The contract is slated to end in 2021, but Civic San Diego has options to extend it, Verdugo explained.
"Although the initial term was for five years, we want to see this as an ongoing contract that's going to get renewed for the long-term," he said.
The Free Ride earns its revenues in San Diego from its partnership with Civic San Diego, advertising and sponsorships.
Alex Esposito, co-founder of The Free Ride, said the company hasn't seen a decrease in ridership as the ridesharing bikes and scooters have come online.
"We saw the highest ridership ever in March, and then we were higher in April," he said. "Obviously this is the same time that the dockless bike share started, but at the same time, we're also going through some enhancements of our own. We've seen zero impact...but I think the rise (in FRED ridership) is more due to some of the enhancements we made on our side."
Changing the Batteries
Some of the changes include the company switching its vehicles from using standard car batteries to lithium-ion batteries, which enable the cars to increase drive time on the road, as well as improvements to the service's app.
Prev Next