RETAIL: SPORTS CO. CULTIVATES NEXT GENERATION OF PLAYERS AND PADDLES
Gearbox Hits Right Composite Formulas
Wednesday, June 6, 2018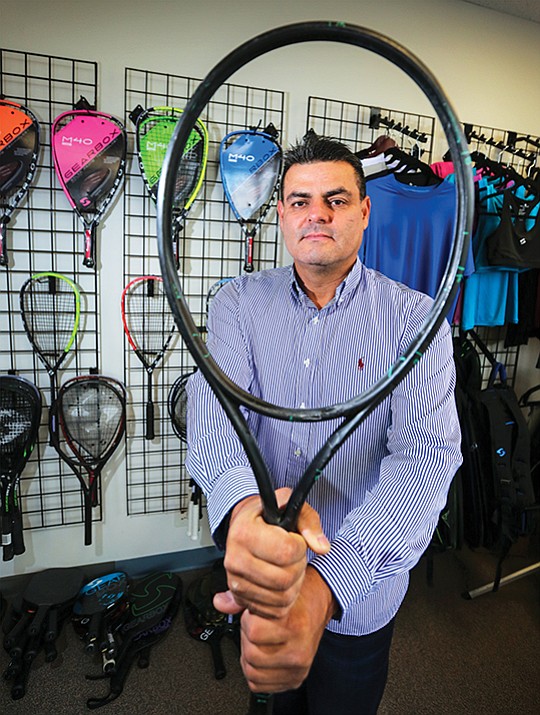 San Diego — It was during his five-year stint in the United States military that Rafael Filippini, founder and president of Gearbox Sports, discovered the game — and the business — of racquetball.
After witnessing a man play the sport at his local gym while attending aviation school in Memphis, Tenn., and serving in the Marine Corps, a then 17-year-old Filippini became intrigued by the game. He began to play during his spare time and he got so good at it that he made the Marine Corps racquetball team, playing against other branches like the Navy. At the time, Filippini, who was working in the aviation department, was learning about composite and became interested in this idea of combining various elements, like carbon fibers, glass fibers and resin. That's when he realized he wanted to not only play racquetball, but he wanted to combine his recreational and educational interests and make a business out of it.
In 2007, he left EF Composite Technologies, located in Carlsbad, where he worked as chief engineer for 13 years after the Marine Corps, to launch Gearbox Sports in Otay Mesa. Now, a decade later, the company is not only one of the top manufacturers of racquetball, paddleball and pickleball, coming in at number one in most markets and number two in a few others, but the private, family-run company is making millions in sales a year, according to Filippini.
Gearbox is a technology-based company that specializes in carbon fiber and composite products. Altogether, Filippini, an engineer, holds more than 17 patents.
This is happening in large part due to retiring baby boomers who want to stay active but not beat up their bodies with more strenuous sports.
Skateboards Coming
Gearbox has seen double digit growth year over year in the last decade. In the next five to seven years, Filippini projects the annual revenue for Gearbox will be $80 million to $100 million in large part due to sales of skateboard, which the company expects to release later this year.
A major draw to Gearbox over other manufactures is the fibrous technology.
"We use a solid patent head technology," said Filippini, who considers himself an inventor at heart and credits his dad with instilling an entrepreneurial spirit in him. "It looks simple, but, it is quite complex. The strings on our racquets are an inch longer than most racquets, which gives you more power. And, I inverted and doubled the wall thickness, which increases the impact resistance. This all translates into power and control, and it gives the player a much larger sweet spot because the area to hit is bigger."
The top-selling product for Gearbox is the M40 racquetball racquet, which is 170 grams in weight (most racquets are between 160 and 190 grams), making it very light, and has a sturdy structure.
The Farm Team
Although paddleball is a popular sport among retirees, Filippini says catering to younger players has been an essential part of his approach. The reason for this is because he hopes to create more players and fill the gap that retirees will leave when they are too tired to play the sport. Gearbox currently endorses about 600 players in Latin America and Central America, among other countries, of which about 50 receive "some sort of payment for winnings."
GEARBOX SPORTS
Founder and President: Rafael Filippini
No. of Employees: 12 in the U.S; four in Mexico: two in China
Year Founded: 2007
Revenue: No figures available (private company)
Company Description: A racquetball, paddleball and pickleball manufacturer that combines carbon fibers and resin for a lightweight, durable, high-performing product
Key Factors for Success: Maintaining the integrity of the quality of the products
And, Gearbox continues to grow. Earlier this year, Filippini signed an agreement with the International Racquetball Federation for Gearbox to be the "official racquetball" of the IRF. The Gearbox black ball will be the official ball of all IRF World and Continental tournaments in addition to the Olympic chain of events, including the Pan American Games, South American Games, Central American Caribbean Games and World Games.
In the next few months, Gearbox will release its first ever skateboard, which is also made of fibrous and resin technology.
"Our skateboards are super light and super strong and are made of the same rib structure as our paddles," said the Tijuana-born Filippini, adding that he has worked with a "reliable and ethical" manufacturer in China for over 20 years for the production of his goods. "The new 787 Boeings are built of this same material. We are literally taking technology from airspace and applying it to sports."
But, none of this success would have been possible without his and his team's efforts in connecting with the racquetball community at the grassroots level, says Filippini.
The Other Type of Mobile Marketing
"From day one, we had a black truck, then we bought a trailer and a truck, then an RV and now we have a couple of buses that we use to hit the road and go to every single club in the United States that we can find," said Filippini. "We believe in going to the consumers and understand what they are doing and what their needs are. They give us feedback so we can provide the right products for them. People want to feel that they belong and that the brand they are with supports them. The more we understand what is going on in the local market, the longer we can stay in the game."