RETAIL: SPORTS CO. CULTIVATES NEXT GENERATION OF PLAYERS AND PADDLES
Gearbox Hits Right Composite Formulas
Wednesday, June 6, 2018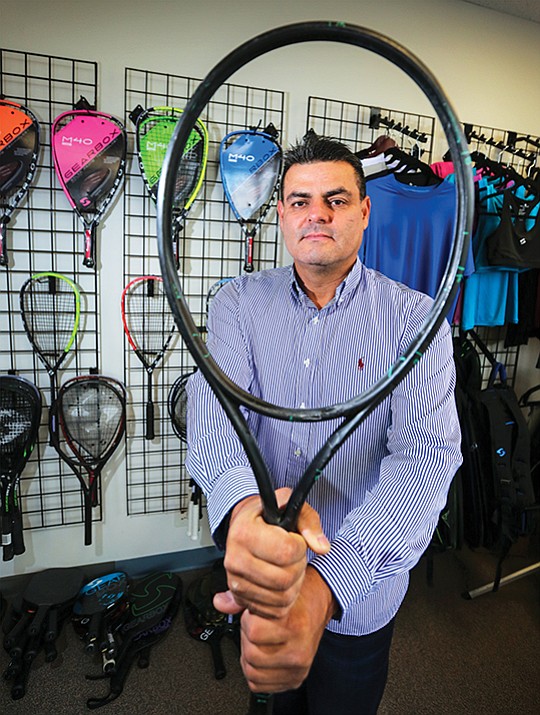 San Diego — It was during his five-year stint in the United States military that Rafael Filippini, founder and president of Gearbox Sports, discovered the game — and the business — of racquetball.
After witnessing a man play the sport at his local gym while attending aviation school in Memphis, Tenn., and serving in the Marine Corps, a then 17-year-old Filippini became intrigued by the game. He began to play during his spare time and he got so good at it that he made the Marine Corps racquetball team, playing against other branches like the Navy. At the time, Filippini, who was working in the aviation department, was learning about composite and became interested in this idea of combining various elements, like carbon fibers, glass fibers and resin. That's when he realized he wanted to not only play racquetball, but he wanted to combine his recreational and educational interests and make a business out of it.
In 2007, he left EF Composite Technologies, located in Carlsbad, where he worked as chief engineer for 13 years after the Marine Corps, to launch Gearbox Sports in Otay Mesa. Now, a decade later, the company is not only one of the top manufacturers of racquetball, paddleball and pickleball, coming in at number one in most markets and number two in a few others, but the private, family-run company is making millions in sales a year, according to Filippini.
Gearbox is a technology-based company that specializes in carbon fiber and composite products. Altogether, Filippini, an engineer, holds more than 17 patents.
This is happening in large part due to retiring baby boomers who want to stay active but not beat up their bodies with more strenuous sports.
Skateboards Coming
Gearbox has seen double digit growth year over year in the last decade. In the next five to seven years, Filippini projects the annual revenue for Gearbox will be $80 million to $100 million in large part due to sales of skateboard, which the company expects to release later this year.
A major draw to Gearbox over other manufactures is the fibrous technology.
"We use a solid patent head technology," said Filippini, who considers himself an inventor at heart and credits his dad with instilling an entrepreneurial spirit in him. "It looks simple, but, it is quite complex. The strings on our racquets are an inch longer than most racquets, which gives you more power. And, I inverted and doubled the wall thickness, which increases the impact resistance. This all translates into power and control, and it gives the player a much larger sweet spot because the area to hit is bigger."
Prev Next