DOWNTOWN'S LATEST HIGH-END APARTMENTS HAVE ROOM FOR LESS AFFLUENT RENTERS AS WELL
Park 12's Opening
Monday, June 4, 2018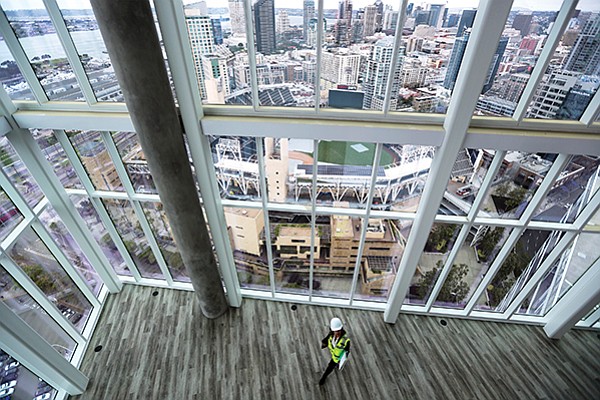 San Diego — For those for whom the sky is the limit with the means to get there, San Diego's latest luxury apartment complex — Park 12 — has just the thing: A top floor penthouse apartment.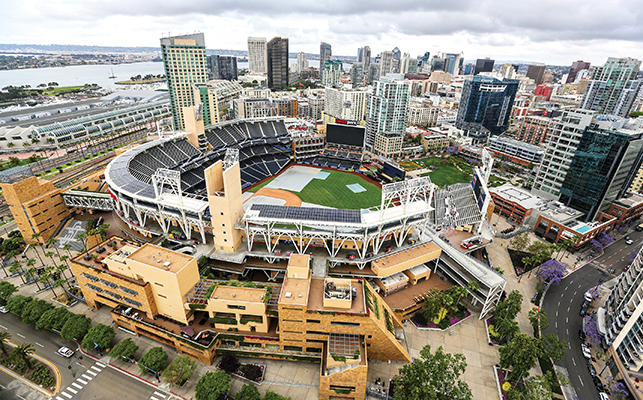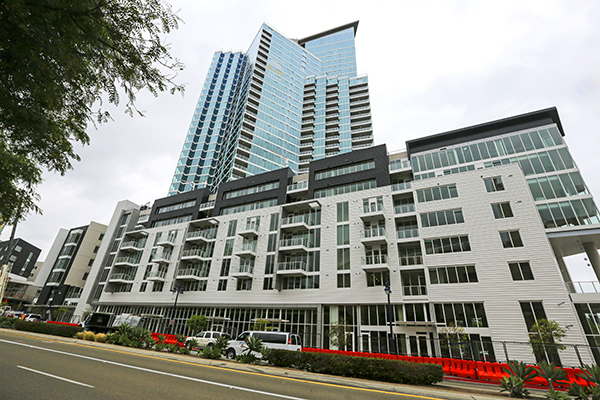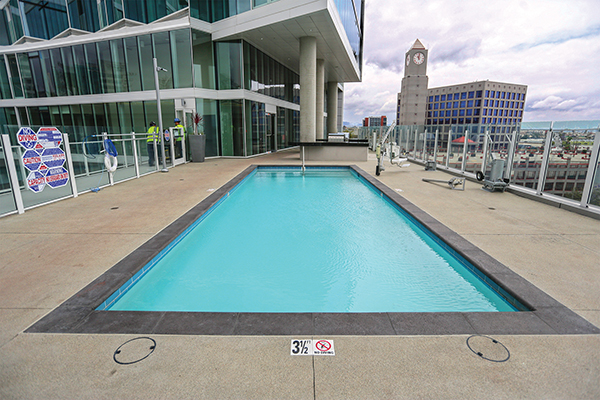 The rent is $20,000 a month, but that buys a 2,824 square-foot apartment on two levels with a stunning waterfront view overlooking Petco Park across the street, windows that go all the way from the floor of the lower level to the more than 30-foot-high ceilings and balconies front and rear.
Built by Greystar at a cost of more than $400 million, Park 12 is four buildings on a 3.5 acre site that was once a parking lot at the foot of 10th Avenue at 100 Park Plaza.
With 718 apartments, Greystar maintains that Park 12 has more units than any other complex downtown.
The buildings share a common plaza, are connected by pedestrian bridge, and create what Greystar Senior Director Jim Ivory described as "our own skyline, kind of a New York effect."
High-End Market
Park 12 is but the latest in a series of high-end apartment buildings to go up in downtown, and brokers said demand for pricey apartments in the heart of the city is likely to continue.
"Things are still relatively strong," said Rachel Parsons, CBRE first vice president.
Among the latest entries into the market are Alexan ALX, a 19-story luxury high-rise which is also near Petco Park and the 24-story Luma at 520 W. Ash, which is under construction.
Darcy Miramontes, JLL executive vice president, said the price of land is so high that developers have little option but to go for the high-end market.
With several new apartment projects set to be finished by the end of 2018 or early 2019, "I don't think there's a question about whether they'll get leased up. I think there is a small question of what rents they'll be leased at," Miramontes said. "You may see some softness in the rents during the next few quarters because of the supply but they will eventually flatten out."
With Southern California offices in Solana Beach and Irvine, Greystar is a developer and property management company that has done projects in the United States and elsewhere, but none as big as Park 12, Ivory said.
Greystar's Largest Project
"This is the largest investment, the largest deal Greystar has done in the U.S.," Ivory said.
Other California projects include the 274-apartment Elan Huntington Beach with 8,000 square feet of retail space, the 304-apartment Franklin 299 in Redwood City, the 115-apartment Access Culver City with 31,000 square feet of retail space, and the 87-apartment Duboce in San Francisco with 5,000 square feet of retail space.
They are all mid-rise projects of five to seven stories, Ivory said.
'A Series of Villages'
At the heart of Park 12 is a glass-and-aluminum clad 37-story tower.
Next to the tower is one six-story building and two seven-story buildings with skins that are a mix of aluminum cladding, plaster and storefront glazing.
The exterior of the tower building and the smaller buildings are angular, with sharp corners, creating a kind of saw-tooth look.
"We didn't want to create a singular, monolithic design. We wanted it to look like a series of villages," said Jerry Brand, Greystar senior managing director. "We wanted it to have a varied look and elevation so it kind of captured that village look."
Park 12 was designed by Carrier Johnson + Culture with LRM as the landscape architect and Greystar and Turner Construction Co. as the builders.
Including 5 Restaurants
The project includes 45,000 square feet of ground-floor commercial space that will include five restaurants, all new to the San Diego market.
It also has 1,216 spaces in a gated underground parking garage.
A key feature of the central plaza will be a 22-foot steel model of a sea shell by Arizona artist Joe O'Connell's Creative Machines art shop.
Set on a base of crushed oyster shells and lighted from within at night, the steel shell is modeled after a turret shell Brand said he found on a local beach.
For those whose incomes can't quite make the price tag of the top floor penthouses, Park 12 has monthly rents ranging from $1,705 to $20,000, depending on the size and location with the rents rising the higher the apartments.
"All the upper floors have just incredible views of the bay, out over Coronado to the Hotel Del to the Pacific Ocean," Brand said. "We have floor to ceiling glass in every apartment."
Most of the apartments in the tower have traditional balconies, and those that don't have Juliet faux balconies, which are more like sliding glass doors that open to the outside but have no room to step outside and are protected by railings.
There also are five live/work apartments with monthly rents of $5,720 to $6,107.
"We're offering the building to a variety of income brackets," Brand said.
Something for Everyone
Park 12 is designed to accommodate everyone from students just out of college looking for their first apartment, to millennials moving up in their careers who want the excitement of a downtown location, to retiring baby boomers downsizing from large suburban homes, Ivory said.
The apartments range in size from 518 square feet to 1,806 square feet. The top floor penthouse apartments are 2,824 square feet and 1,848 square feet.
The beauty is that renters in the least expensive studios have access to the same 14 common area amenities as those who rent the pricier apartments, Ivory said.
Those amenities include a 24-hour indoor/outdoor fitness center, a rooftop pool with a sundeck and spa, a clubroom with a culinary kitchen and bar, several courtyards with outdoor seating, grilling areas and fire pits; a sports and game lounge, and co-working spaces.
Pet Projects
There's also an outdoor dog park on the seventh floor with a water fountain for dogs, sprinklers to keep the area clean, and separate sections for big dogs and small dogs.
"Something like 35 to 40 percent of residents have pets these days," Ivory said. "We have to cater to that."
All apartments come with full-size washers and dryers, quartz countertops and polished chrome fixtures in the kitchens, and wood-style flooring and gas ranges.
"We're the only apartment tower in downtown that has gas," Ivory said. "Millennials and baby boomers like the kitchens — millennials because it looks cool and baby boomers because they like to cook."
Some also have televisions built-into the bathroom mirrors. Most have only shower stalls in bathrooms, although Ivory said about 30 percent also have tubs.
The penthouse apartments come with Jenn-Air stainless steel kitchen appliances, wine refrigerators, upgraded chrome fixtures and high gloss cabinets.
Construction of the tower apartments is expected to be done by mid-July, with work finished on the rest of Park 12 by the fall.
Expecting High Demand
Park 12 is the latest in a series of luxury apartment complexes, but Ivory said he expects little difficulty filling the complex thanks in part to San Diego's strong economy.
By mid-May, nearly 40 apartments in Park 12 had been leased before tenants could even get a peek inside.
Cushman & Wakefield, a commercial real estate brokerage firm, reported that San Diego added 32,100 jobs between April 2017 and April 2018, with all employment sectors expected to grow at a combined growth rate of 1.4 percent through the end of this year.
The unemployment rate in April dropped to 2.9 percent, the lowest it's been since November 2019, according to Cushman & Wakefield.
"San Diego keeps creating jobs, and they're good jobs," Ivory said. "We know there will be demand for a good place to live."