DOWNTOWN'S LATEST HIGH-END APARTMENTS HAVE ROOM FOR LESS AFFLUENT RENTERS AS WELL
Park 12's Opening
Monday, June 4, 2018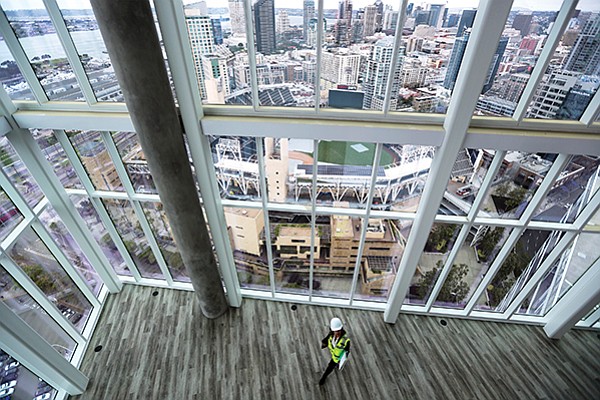 San Diego — For those for whom the sky is the limit with the means to get there, San Diego's latest luxury apartment complex — Park 12 — has just the thing: A top floor penthouse apartment.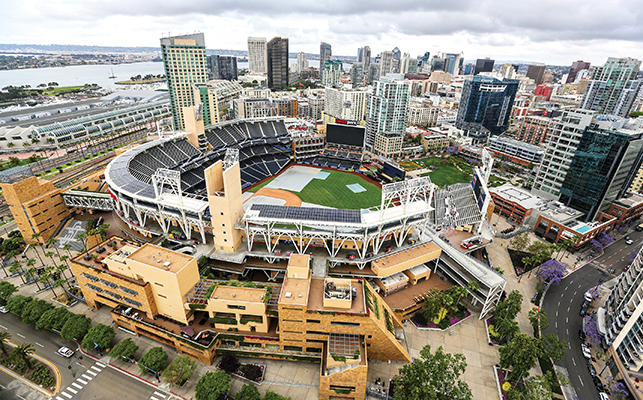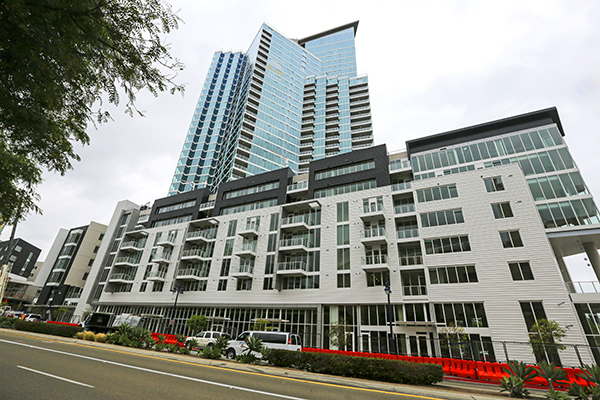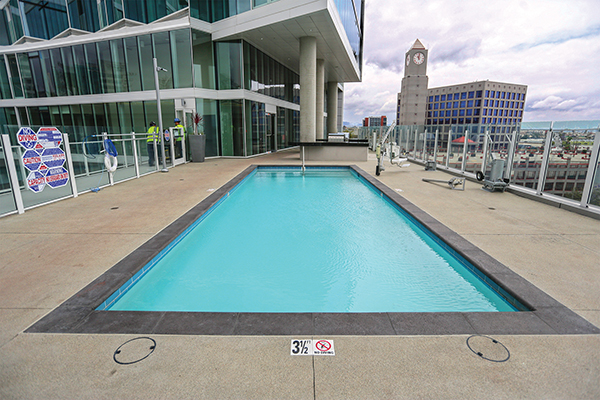 The rent is $20,000 a month, but that buys a 2,824 square-foot apartment on two levels with a stunning waterfront view overlooking Petco Park across the street, windows that go all the way from the floor of the lower level to the more than 30-foot-high ceilings and balconies front and rear.
Built by Greystar at a cost of more than $400 million, Park 12 is four buildings on a 3.5 acre site that was once a parking lot at the foot of 10th Avenue at 100 Park Plaza.
With 718 apartments, Greystar maintains that Park 12 has more units than any other complex downtown.
The buildings share a common plaza, are connected by pedestrian bridge, and create what Greystar Senior Director Jim Ivory described as "our own skyline, kind of a New York effect."
High-End Market
Park 12 is but the latest in a series of high-end apartment buildings to go up in downtown, and brokers said demand for pricey apartments in the heart of the city is likely to continue.
"Things are still relatively strong," said Rachel Parsons, CBRE first vice president.
Among the latest entries into the market are Alexan ALX, a 19-story luxury high-rise which is also near Petco Park and the 24-story Luma at 520 W. Ash, which is under construction.
Darcy Miramontes, JLL executive vice president, said the price of land is so high that developers have little option but to go for the high-end market.
With several new apartment projects set to be finished by the end of 2018 or early 2019, "I don't think there's a question about whether they'll get leased up. I think there is a small question of what rents they'll be leased at," Miramontes said. "You may see some softness in the rents during the next few quarters because of the supply but they will eventually flatten out."
With Southern California offices in Solana Beach and Irvine, Greystar is a developer and property management company that has done projects in the United States and elsewhere, but none as big as Park 12, Ivory said.
Greystar's Largest Project
"This is the largest investment, the largest deal Greystar has done in the U.S.," Ivory said.
Prev Next