Port of San Diego Introduces New Sustainable Vehicles
Sunday, July 29, 2018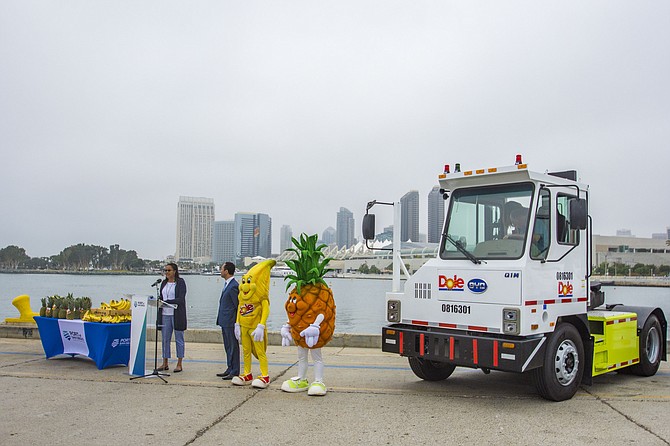 The Port of San Diego, the San Diego Port Tenants Association and Dole Fresh Fruit introduced new sustainable vehicles for freight at the port's cargo terminal. The vehicles, including new electricity-powered semi-trucks and forklifts, were purchased with a $5.9 million grant from the California Energy Commission that was awarded to the San Diego Port Tenants Association and will provide cleaner air, less noise and reduce air emissions overall for surrounding communities.
"I am especially proud of the San Diego Port Tenants Association's work to ensure that our tenants benefit from state funding for innovative projects," said Port Chairman Rafael Castellanos. "These businesses are good corporate citizens and forces for environmental change."
The trucks were manufactured by BYD in Lancaster, and they are expected to reduce greenhouse gas emissions by 940 metric tons over the lifetime of the project. So far, there are nine sustainable vehicles in use at the port, with a total of 10 electric vehicles, and an intelligent transportation system, to be available at the Tenth Avenue Marine Terminal.
"With the help of an almost $6 million grant from the Energy Commission, this project will offer multiple port tenants the opportunity to see how zero-emission technology can improve the efficiency of their operations while supporting the climate goals of the state and port, and improving air quality at the port and in the surrounding community," said California Energy Commissioner Janea A. Scott. "It's a win on multiple fronts."