A Tip of the Toque to All Chefs at Meals on Wheels Challenge
Sunday, July 22, 2018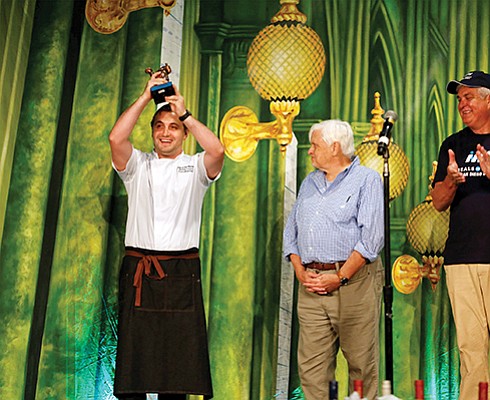 continued — In addition, Cortés has been chosen as a 2018 honoree for the California Legislative Lesbian, Gay, Bisexual, and Transgender (LGBT) Caucus. In June, he was presented with a resolution in commemoration of his accomplishments and contributions to the LGBT Community at the LGBT Pride Ceremony in Sacramento at the state Capitol.
Previous honorees include Executive Director of Equality California Rick Zbur, journalist Helen Zia, academy award winner Dustin Lance Black, and Bishop Rev. Yvette Flunder.
During the years, Cortés has served on many nonprofit boards of directors, including McAlister Institute, Being Alive San Diego, and the San Diego Men's Chorus. For the last six years, he has been a peer mentor to nonprofit leaders through the Fieldstone Leadership Network. Visit mamaskitchen.org.
• • •
With wildfire season turning into a year-round threat throughout the state of California, San Diego Gas & Electric recently awarded nearly $1 million in shareholder-funded charitable grants to 95 emergency response teams and other nonprofit organizations that have made it their mission to protect the region from wildfire.
Known as the SAFE San Diego Awards, this philanthropic initiative has earmarked shareholder dollars to ensure local Fire Safe Councils and Community Emergency Response Teams have the tools, resources, and staffing they need to plan, prepare, and respond to emergencies in every neighborhood and community in the region.
Volunteers and teams awarded grants from SDG&E represent organizations that play critical roles in helping to prepare our communities for emergencies and are often the first line of information and support in a crisis. Visit SDGEnews.com.
Send Kudos/Giving items to
sglidden@sdbj.com.
Prev Next