DEVICES: SCANDAL BRINGS WELCOME SCRUTINY TO SECTOR
Other Blood Testing Cos. Avoid Taint of Theranos
Thursday, July 19, 2018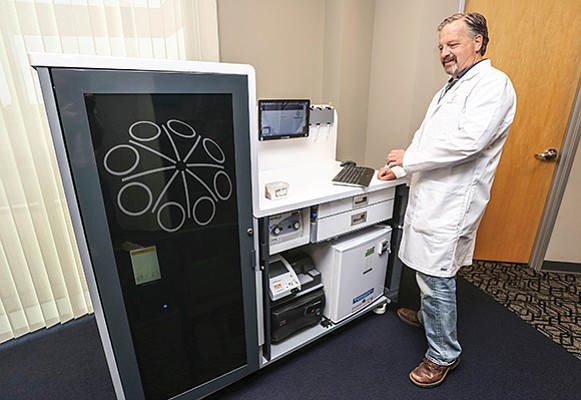 continued — Has Raised $82M
Founded in 2007, Genalyte boasts about 100 employees. The privately held company has raised $82 million, backed by science and health care investors. This scientific support contrasts with largely tech-funded Theranos, whose downfall made general investors wary.
"There are many investors who told me they can't take anything that looks this close to Theranos to their partnership for an investment," Gunn said. "Attracting new investors amidst all the chaos has been problematic."
Bruce Carlson, publisher of market research firm Kalorama Information, said Theranos serves as a cautionary tale for investors unversed in medical devices. But there's still strong venture capital enthusiasm for point-of-care diagnostics, a $19.6 billion field in 2017, estimated to grow 25 percent by 2022, according to Kalorama.
What's driving the interest: the potential to slash health care costs.
"If a point-of-care result in a hospital shows a lack of infection, it's possible the patient could then be going home, which is a cost savings," Carlson said, as an example.
Promising Early Phase
In a crowded market, Carlson views Genalyte, still at a fairly early phase, as promising.
"I will say the company is on a much better track than Theranos," he said, adding with a laugh: "It's hard not to be."
Theranos raised more than $750 million from investors, with a $9 billion valuation at one point. But sentiment turned against the company in 2015 following a Wall Street Journal expose raising questions about flawed and inaccurate tests. Last month, federal prosecutors filed criminal charges against former CEO Elizabeth Holmes and former Chief Operating Officer Ramesh Balwani alleging investor deception.
This saga hasn't changed the view of Sai Sunkara. He's with the local chapter of Tech Coast Angels and invested in another blood testing company in 2008.
Sunkara sees decentralized blood testing as potentially transformative in rural, emerging markets without access to labs.
"There is a massive opportunity here," Sunkara said.
Some investors taken by Theranos' tale a few years ago passed on San Diego-based True Diagnostics, which offers point-of-care testing that to a minor degree overlapped with Theranos. Shareholders raised questions too.
"There was just a lot of concern about missed opportunity and that they would grab all the market share," said Jerry Lee, founder and CEO of True Diagnostics. These days he receives a good number of outside inquires about what makes the company different.
Scrutiny Is Good
"It's created more scrutiny, which is good for us," he said. "There's a lot of noise around diagnostics."
Apart from Theranos, Lee said point-of-care diagnostics already had a high bar to clear.
To be taken seriously, products are expected to win FDA backing, something True Diagnostics holds.

Fortunately, Lee said San Diego's diagnostic expertise makes winning regulatory approval easier.
"We have a wide talent pool of people that have decades of experience within in vitro diagnostics, assay development, medical devices," he said. "This sets San Diego apart from different types of communities like Boston or San Francisco."
Companies occupying other parts of the blood testing industry haven't had to distance themselves from Theranos. Take Biocept, which specializes in blood samples identifying markers for the treatment of cancer, in instances when taking a piece of a patient's tumor risks complication. In other words, very different from Theranos — and investors realize this.
Not to mention, Biocept is heavily regulated.
"We are regulated and prove that our tests work," said Joseph Spidle, marketing director of Biocept, based in San Diego. "So we don't have any trouble with the types of things Theranos has trouble with."

Prev Next