SERVICE: ANALYTICS USED TO STRUCTURE STREAMERS' PRICING MODELS
Management Co. Guides Gamers in Business Arena
Thursday, July 19, 2018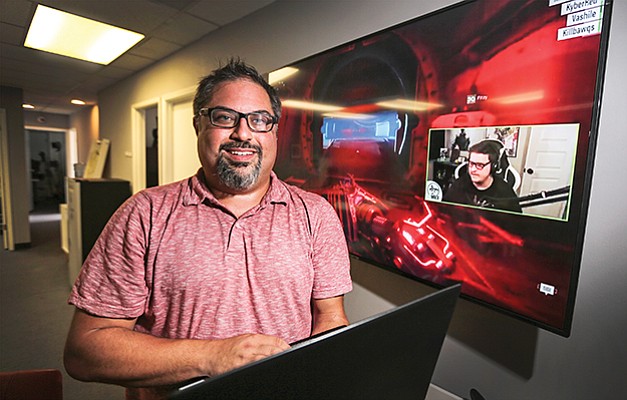 San Diego — A management agency based in Point Loma represents more than 40 people who play video games on the Amazon-owned platform Twitch while fans watch.
The most popular of such streamers have made millions, pulling in revenue through an assortment of advertising, subscriptions and sponsorships. But for many expert gamers, knowing how to build a business is much trickier than fighting to be the last player standing in "Fortnite."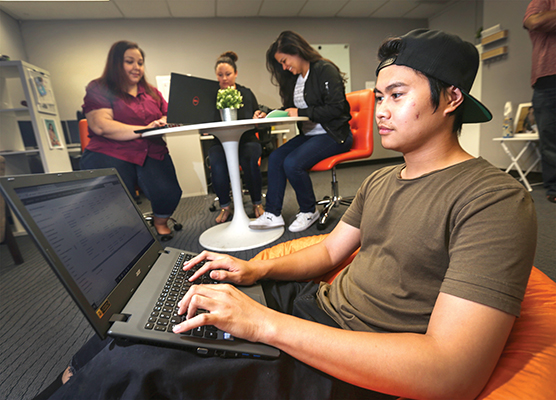 ONLINE PERFORMERS GROUP
CEO: Omeed Dariani
Revenue: Low to mid seven figures
No. of local employees: 13
Headquarters: Point Loma
Year founded: 2014
Company description: Management company for streamers on gaming platform Twitch.
Omeed Dariani, CEO of Online Performers Group, is a gaming industry veteran who anticipates his 15-person company will record revenue of at least double the "low to mid seven figures" it took in during 2017. Its revenue climbs in tandem with that of its clients, since the company earns money when they do.
It was during a stint at Sony Online Electronics (SOE), the company's online gaming division, where he handled business strategy, marketing and brand development for games, including "EverQuest" and "Landmark," that he began checking out Twitch.tv, then a venture-backed spinoff of Justin.tv, which had launched in 2007.
"It was kind of a jungle," he said.
To determine which of the gamers could potentially be a good fit for Sony to sponsor, he began building relationships with some of the more prominent gamers.
Lack of Business Savvy
Dariani said he noticed many streamers with big audiences being taken advantage of by companies and talent agencies that were taking big cuts of the deals they struck.
"It really hit me at one point, I've got my lawyers and my agency and my PR team and like 200 years-worth of experience and probably $2 million-worth of payroll and I'm negotiating against some kid who lives, like, on a farm," he said. "It's not right."
Dariani said in one instance SOE reached out to 100 streamers asking how much money they would charge to play one of the games developed by SOE, and he discovered there seemed to be little understanding of the negotiation process of the worth of such work.
"We got 10 responses, and the numbers were completely random," he said. "One guy wanted $25,000; another said sure, just send me a copy and I'll do it. There wasn't any of the pricing structure I was, as a marketer, expecting to see."
Analytics Tools
He left SOE in 2014 and began helping two streamers he had developed relationships with during his time there build their brands and negotiate sponsorship deals. Dariani's wife, Jennifer, OPG co-founder and chief operating officer, analyzed metrics to determine a logical pricing structure for streamers.
"To do that, we had to build analytics tools that didn't exist before to understand what people were doing on Twitch, how it worked, what games were successful and which games were not and ultimately how people were doing, and in doing that we were able to identify good future management candidates for us," he said.
In 2016 Dariani left a job he had taken with another videogame publisher to devote his full attention to growing OPG.
The company now manages 43 streamers exclusively, and has been increasing its revenue since its 2014 launch as its client roster has grown, and as those on it have become more successful.
Unusual Challenges
"Some of our clients are 20 times where they were last year," he said. "The growth is amazing because the industry has grown around it."
Managing streamers has come with some unusual challenges.
Since sponsorship dollars are based on the amount of time a streamer plays the game, they are incentivized to spend inordinately long hours doing so, sacrificing health in the process.
Last year a Twitch streamer had a heart attack while streaming, and another died during a 24-hour livestream charity event.
Dariani said OPG had initially encouraged its clients to visit San Diego, where he said he would put them up for free to ensure they took time away from gaming. But none took him up on the offer. Instead, the company recently began offering rebates on management fees for those clients who do take days off.
The company has also worked with some clients whose handles, selected before they became popular, were unpalatable to consumer brands. Dariani worked with those clients to rebrand in a way that would put them in a better spot to earn money while avoiding alienating their following.
Dariani credits John Smedley, who runs a San Diego-based studio for Amazon Game Studios, with bringing to his attention Twitch's potential to change how studios market their products. The two worked together at SOE.
Smedley said the platform — the top streaming platform for gamers — has fundamentally changed the gaming industry's connection with its customers.
"It's given rise to a much more democratic way of people discovering games," he said. "People now are discovering new games through Twitch, and these content creators are really changing how we interact with games. Now games aren't just about playing, but about watching, too."
Smedley said management companies are helping normalize pricing for game makers and marketers looking to harness the power of influential streamers' audiences. OPG appears to be at the forefront of a new niche for the management company industry. Going forward major management companies could begin to compete for streamers' business.
"Because this is exploding so fast, we've been watching the business end of streaming take a bigger and bigger role," he said. "These content creators Twitch is helping to get into the stratosphere really are becoming celebrities in their own right."
Signing Outside Deals
Some OPG clients have signed deals with major brands outside the gaming industry as marketers look to reach the millions of people who watch Twitch livestreamers daily.
Taco Bell flew Canadian streamer Matt Dethridge with 274,000 Twitch followers to Toronto to promote its reintroduction of Baja Blast, a flavor of Mountain Dew, by getting his hair and beard dyed the color of the soda — while livestreaming, of course.
Dariani said the firm, which has bootstrapped its growth to date, typically receives 20 to 30 "legitimate" inquiries from companies that are considering partnering with its clients each day. He estimated OPG clients did 25 percent of the sponsored work that happened on Twitch in the last quarter of 2017.
Going forward, the Dariani aims to continue growing its client base and represent more of the 500 or so streamers on Twitch that can command sponsorship dollars — and grow his San Diego firm in tandem with their needs, he said. In the short term, he aims to represent 100; long-term, 250.
"There's no upper limit on growth except for the inventory of talented streamers," Dariani said. "Same as in Hollywood, there are only so many Brad Pitts, so you build your business to satisfy that demand."