RETAIL: SASH SOLD 30,000 LAST YEAR; IT'S CURRENTLY EXPANDING MANUFACTURING
Bag Co. Cashes in on Form, Function and Social Media Strategy
Wednesday, July 18, 2018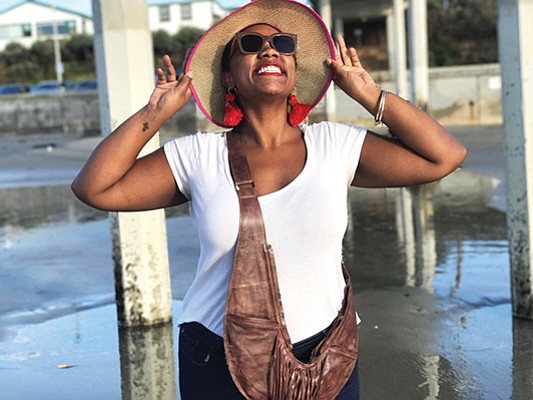 continued — Also in June, MacDonald began selling on Amazon. Now, in its sixth year, the company, which has ten employees and has a fulfillment center in Canada with manufacturing done in India, is expanding into two factories in China and is projected to sell 70,000 bags and hit $7 million in sales this year.
MacDonald says her company is successful because of what she learned from her first run as an entrepreneur.
Learning From Mistakes
"The mistake I made the first time (with Bagonia) was that I got carried away by validation and hype, but, the only thing I cared about this time was if people could part with their money," she said. So, despite sparking interest that fall night in 2012, when she first wore the sash prototype out for a night out on the town, she decided on a slower, more experimental approach, gathering a group of her friends to hand-sew more bags which she then took to a tradeshow to further test out the market. That day, she got $20,000 in orders. "That is what I needed to know I could do this," she said.
Making the Sales
In 2013, MacDonald began manufacturing small batches of the bags stateside before meeting her India-based manufacturer, a leather technician named Muralidharan Subramanian, who also works for Nordstrom. And, for three years, she sold face-to-face "anywhere I could get a booth and talk to people in hopes they would walk away with a bag," said MacDonald, adding that she was a regular at the Little Italy Mercato Farmers Market and the Carlsbad Village Faire, among others, and was making about $300,000 a year in revenue. The hands-on involvement allowed her to learn more about her business, like what her target demographic is (baby boomers) and that the number one use of the bag is for travel. "These are all things I didn't know," she said, "and, without the experience, I would've made different assumptions."
The first Kickstarter campaign is what helped the company get over the "sell a bag to make a bag" financial hump, and with the help of some clever Facebook ads, Sash began to see major sales growth. In January 2017, after realizing 40 percent of her orders came from Canada, MacDonald opened a fulfillment center there. And, midyear, she started the Facebook group. In early 2018, she hired five additional people for a total of ten employees.
The Next Venture
At the end of August, MacDonald, who completed one semester at Columbia College, a junior college in Northern California, and sources all her fabric from India, will visit China to begin working on the latest expansion. The China factories will focus on what sells on Amazon, while the India factory will produce what sells on the website. The projected revenue for next year is $15 million, as per MacDonald, who says she hopes to sell the company in a couple of years and focus on her next venture: a technology company called Lash.Live, which she founded last year and is currently in beta mode. 
"It is as if QVC and Facebook had a baby," MacDonald said about the business, which is a platform she created with partners Etienne DeBruin and Tyler French, for vendors to sell their products — from plastic containers to kimonos — via live streaming and for buyers to use a one-click system for purchases. The company, for which she raised $160,000 from friends and family, currently has 12 designers and 1,600 shoppers signed up and is expected to go live July 19.
Prev Next