FINANCE: ANSUN LED THE WAY WITH $85M SERIES A
Q2 Life Sciences Investment Hits Record $427.5M
Tuesday, July 17, 2018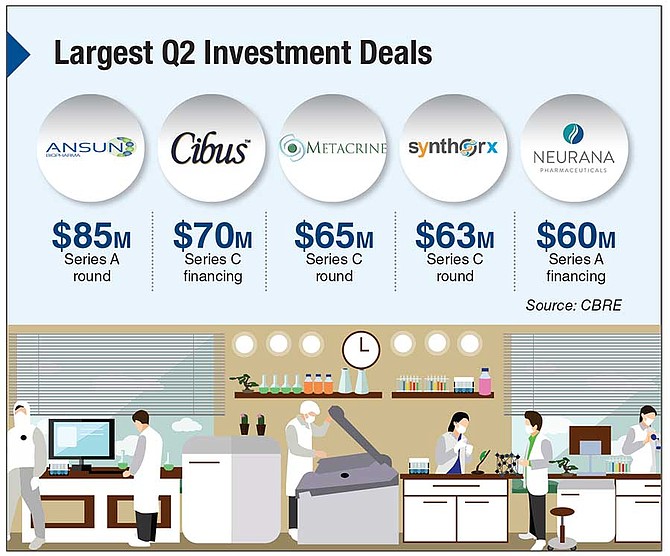 San Diego — It's another record-setting quarter.
Investment in San Diego-based life sciences companies hit a record high $427.5 million in the second quarter of 2018, according to a July CBRE Group Inc. report. This figure beat the preceding quarter's $417.9 million in investment, which was a record at the time, and represents a 32 percent year-over-year jump.
CBRE has tracked San Diego life science deals, encompassing drugmakers, diagnostics, genomics and medical devices, since 2002.
It's tough to read too much into one quarter, but investors have taken notice of all the innovation coming out of San Diego. And the favorable macroeconomic environment helps. So said Michael Combs, research manager with CBRE.
"San Diego companies have a history and track record of being good investments from a venture capital standpoint," said Combs.
Of the 10 life sciences deals this quarter, the largest was Ansun BioPharma's $85 million Series A round. The company is developing anti-viral therapeutics for respiratory tract infections. Proceeds will go toward a final-stage clinical trial for its medicine DAS181. 
The drug looks to be on a favorable regulatory track, since the U.S. Food and Drug Administration has granted both fast track status and a breakthrough therapy designation.
Coming in second: Cibus, which brought in a $70 million Series C financing. Cibus is using gene editing technology to breed hardier crops. The money will be used to commercialize its first commercial product, a non-GMO weed control crop called SU Canola.
Rounding out the top three was Metacrine. The company, which is working on drugs for liver, metabolic and gastrointestinal diseases, closed a $65 million Series C round. Metacrine's lead candidate, MET409, targets a receptor linked to non-alcoholic steatohepatitis, or NASH, a debilitating condition for which no approved therapies exist today.
Combs noted life science investment has dominated San Diego this year. Indeed, in terms of deal size, the category took the top eight spots this quarter.
"It's been a couple of quarters so I definitely don't know if we're in trend territory yet," Combs said of regional life sciences investment. "But it always has a lot to do with intellectual property, talent out there and developing those ideas."