STARTUPS: MENTORING, SERVICES, ACCESS TO CDP INCLUDED IN FREE PROGRAM
Tealium Reaching Out to Help Early-Stage Startups Analyze Data
Wednesday, July 11, 2018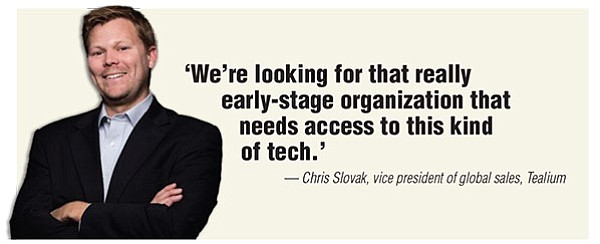 San Diego — La Jolla-based Tealium, which makes software for enterprises to use to analyze data, is launching a program to help out local startups with free services, mentoring and access to some of its investors and customers.
Startups that are accepted into the program will get two years of free access to its customer data platform (CDP), said Chris Slovak, vice president of global sales at Tealium.
The new program is targeted at startups that launched less than two years ago, have five or fewer employees and less than $1 million in funding, he said.
"We're looking for that really early-stage organization that needs access to this kind of tech," he said. "Once we have a list of applicants we're going to review them and interview them, and plan to have them on board by the end of the year."
Tealium, founded in 2008 by Mike Anderson, the company's chief technology officer, and Ali Benham, has raised just shy of $113 million since inception through seven funding rounds, including a $35 million Series E round in 2017. Its investors include Citi Ventures and Bain Capital.
Tag Management
Its software helps companies manage website "tags," or pieces of code that let marketers know which web pages customers have visited.
Enterprise-grade software is often too pricy for startups to access, Slovak said. In addition to access to Tealium's Universal Data Hub, as it calls its CDP, startups accepted into the new program will be invited to participate in its hackathons and receive tickets to its user conferences, where they will have an opportunity to meet some Tealium clients, Slovak said. Brands with which the company works, totaling 700 worldwide, include Domino's, Cathay Pacific, Nokia, Fox and ProFlowers.
He said Tealium will also bring in some of its investors, technology leaders and customers to lend the startups insight into their respective areas of expertise.
Slovak said nearly any organization that's providing B2B or B2C services could be a good fit, as long as the companies are looking to use digital data to reach customers.
"Because a lot of what we do is about digital experiences and creating great customer interactions with your data, we want to work with companies that are focused on apps, or have a presence on the web or want to do cross-device interactions," he said.
10 for Inaugural Cohort
Slovak said Tealium aims to find about 10 startups in Southern California for its inaugural cohort.
Prev Next