PROPERTY: COLORFUL APARTMENTS GET NOTICED
Building Up the East Village Vibe
Monday, July 9, 2018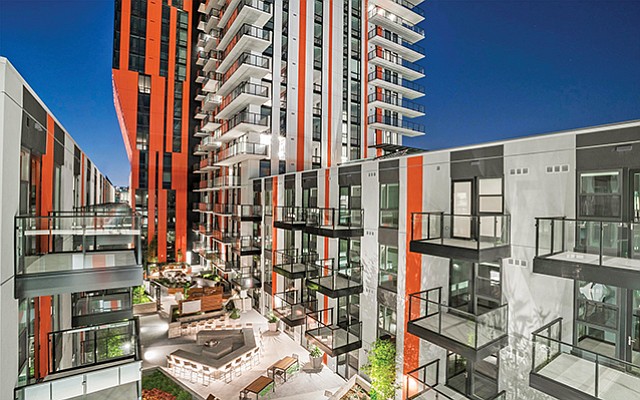 San Diego — Shift — the latest addition in downtown high rise apartment towers — was meant to stand out.
With a 21-story tall reddish-orange tower jutting out on one side, the latest "luxury" apartment addition to San Diego's East Village neighborhood is an eye-catcher.
"We wanted to create a landmark for East Village," said David Gonzalez, senior designer with the San Diego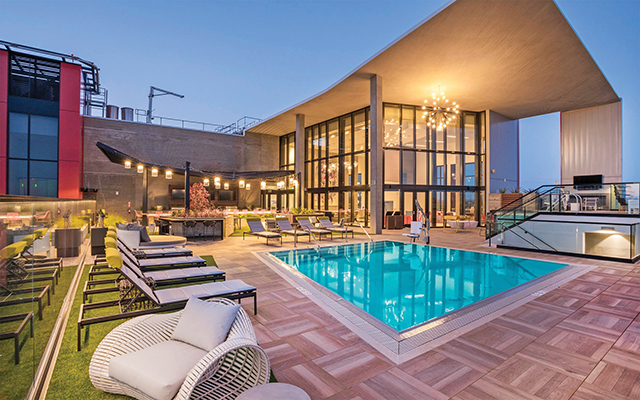 architectural firm of Carrier Johnson + Culture.
"It's a building that doesn't belong anywhere else but that particular site. You can't go ahead and put that building in Little Italy or anywhere else," Gonzalez said. "This building, because of its strong concept is going to stand the test of time. It's going to be fresh for generations to come."
With red and black stripes running up and down the building, Shift — at 1501 Island Ave. — is almost a sculpture of its own and is meant to reflect the bohemian nature of its neighborhood.
"East Village has a history of being an artist colony for many years," Gonzalez said.
The reddish-orange color of Shift is the same as that of the Golden Gate Bridge in San Francisco.
It Rebrands the Neighborhood
In addition to its striking color, Shift's quirky angular structure sets it apart.
"It's a bold and vibrant structure that complements the neighborhood," said Dora McCann Guerreiro, executive director of the East Village Association. "It rebrands the neighborhood. I love it."
LMC, a Lennar Co. that is building Shift, wanted "something that's funky and eclectic and very memorable, something you're not going to see in suburbia, something you're not going to see in every downtown across America," said Dan Ferguson, LMC's director of development.
"We kind of challenged them (Carrier Johnson + Culture) to do something that San Diego hasn't seen before, to do something that's really unique," Ferguson said.
Swinerton Builders is the general contractor.
Ferguson declined to say what it cost to build Shift.
A Fitting Tribute
Gonzalez said the design of Shift with, the angles that make it look almost like a giant piece of machinery, also is a tribute to Bob Sinclair, the East Village pioneer and founder of Pannikin Coffee who died in a 2011 motorcycle crash at the age of 68.
Sinclair bought old buildings in East Village just because he liked them, not so much as an investment. He created artworks from the old machinery and equipment he found inside.
Prev Next