Stunning Home Takes You on Tour of Architect's Imagination
Sunday, July 8, 2018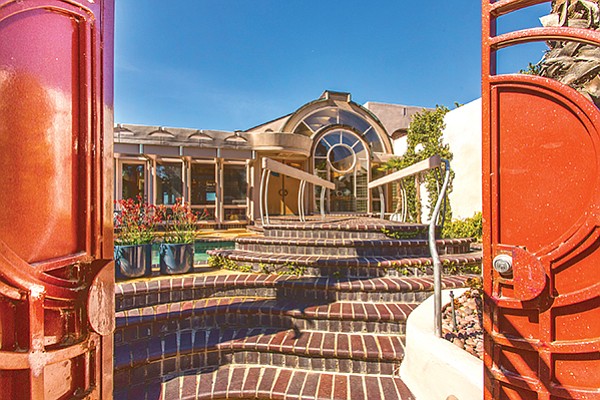 San Diego — The seaside village of La Jolla has many charms, among them a diversity of eclectic neighborhoods, each with their own personality. One of those neighborhoods is the exclusive Country Club Estates, with sea view homes that rise dramatically, stacked street by street, from Torrey Pines Road. The property at 7191 Encelia Drive is on a third of an acre and is on the last cul-de-sac at the top of the hillside.

The road to the home rises sharply and curves along the scenic La Jolla Country Club golf course. Once there, the steep incline creates a sensation of being suspended in the sky — everything below fades away to nothing but the expansive sky and the ever-changing sea.
The home is the private residence of San Diego architect, C.W. Kim and is known as the "Sundial House." Kim, who has built many projects around the world, has also had a major influence on the San Diego skyline. His firm designed and built the landmark $140 million Emerald-Shapery Center with its distinctive sail-shaped spinnakers and hexagonal towers at 402 Broadway. Other local projects include the Loews Coronado Bay Resort, Marriott Marquis & Marina, Scripps Clinic, La Jolla Research Laboratory, among others. Kim is also an assistant professor at the NewSchool of Architecture in San Diego and serves on the boards of directors for United Way and the Museum of Contemporary Art San Diego.
The design of Kim's personal residence reflects his vision and passion for architecture and he was involved in every aspect of the design/build. It's a contemporary design with sophisticated, one-of-a-kind elements.

Brett Dickinson, a realtor and director of global marketing, Asia for Pacific Sotheby's International Realty, has the listing on the 6,677-square-foot, six bedroom, six-and-a-half bath home. The listing price is $8.495 million.
Dickinson said the home, which will also be featured by Sotheby's architectural division, is Kim's "pride and joy."
The arched front gate opens into a private courtyard with a pool, fountain and fire pit. An enchanting lighted bridge leads over the pool to the home's entry.
From the moment the front door swings open into the massive cathedral-like foyer with its shining granite floors, the grandeur, whimsy and genius is unmistakable. The vaulted barrel ceiling with massive curved wooden cross beams is in itself an unparalleled work of art. The light-filled space leads past a grand piano through to the living area — with a reproduction of Dali's "Mae West Red Lips" couch — out through to the floor-to-ceiling windows on the back of the home to the namesake sundial and expansive ocean view. A dramatic play of natural light floods in through circular windows and skylights during the day and mirrors the majestic evening sunsets.
Prev Next