Nortek Security & Control Unites Local Workforce at New Corporate HQ
Sunday, July 8, 2018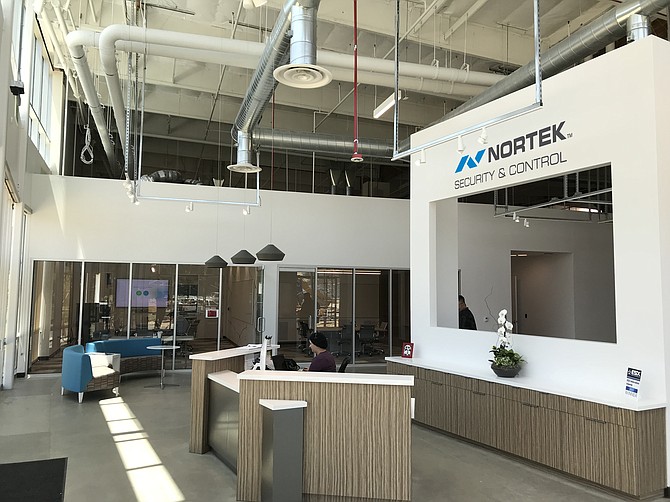 Smart, connected device and systems maker Nortek Security & Control LLC (NSC) this spring moved its local workforce into a new 82,000-square-foot headquarters in Carlsbad.
For more than 12 years the company's San Diego employees had been working out of two separate buildings in Carlsbad, which together spanned about 80,000 square feet.
Now the company is headquartered in the Atlas at Carlsbad complex on Sea Otter Place, just north of Bressi Ranch. The campus, owned by Regent Properties, was acquired in 2014 and underwent a multi-million dollar remodel.
The company said the layout was expected to increase productivity and provide the space needed for its growing workforce, especially its product development, software and engineering teams.
"We set out to create a work environment that will serve our needs for many years to come," NSC President Mike O'Neal said. "As we currently look to add more talent to our organization, we believe it's an environment that will attract the best in San Diego to join us, fostering the best and brightest thinking from our future-focused teams."
The complex includes a large engineering lab with test and development capabilities for wireless communication, video processing and sound management, and amenities including a fitness center and coffee stand.
NSC makes smart connected devices and systems for markets including residential and commercial security, home automation and personal digital health.
"San Diego is an important center for the technologies that are driving all aspects of the smart home, security, IoT, and home automation markets," O'Neal said.
Including its local workforce, NSC employs more than 2,500 people. It has offices in Petaluma, Seattle, Tallahassee and Peabody, Massachusetts, and a factory in Guangdong, China. The company is a subsidiary of London-based investment firm Melrose Industries PLC.
Reach reporter Sarah de Crescenzo at sarahd@sdbj.com.