Festival Raises Money, Salutes Surgical Teams' Missions of Mercy
Sunday, July 8, 2018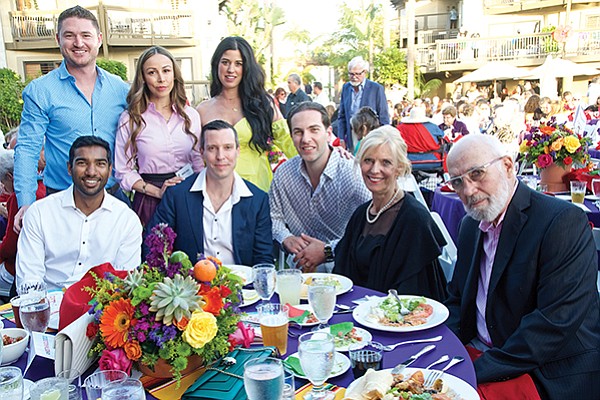 San Diego — The Scripps 7th Annual M.O.S.T. Mariachi Festival was held recently at Humphreys Concerts by the Bay.
A record-breaking 460 people attended the Mariachi Festival, which raised nearly $300,000 for the Mercy Outreach Surgical Team (M.O.S.T.), a group of physicians, nurses, and volunteers who donate their time and expertise to provide life-changing surgeries to children in need throughout Mexico.
Guests celebrated M.O.S.T.'s more than 30 years of work, while enjoying music by Mariachi Garibaldi and Grammy-award winning Mariachi Los Camperos. A live auction raised more than $50,000.
Dr. Larry McCarthy honored Patricia Robinson, co-founder of M.O.S.T. and Rosario Berenice Jacobo-Hernandez, a M.O.S.T. patient, was a special guest speaker.
Since 1987, M.O.S.T. volunteers have provided free corrective medical care to children who have burn scars and birth defects. The M.O.S.T. team travels to small towns throughout Mexico to repair cleft lips and palates, treat burn scars, remove extra toes and fingers, repair hernias and correct the vision of children with crossed eyes. Each mission is 100 percent funded through donations. Committed volunteers, who pay their own travel expenses and give-up valued vacation time, go on these missions to help transform lives. Visit Scripps.org/mercymost.
• • •
Maritime Museum of San Diego, home to one of the world's finest collections of historic vessels, from sail to steam to submarine, announced the first stage of its 2018 curriculum to train individuals 18 and over how to sail and maintain tall ships. Vessel training includes learning the skill to sail the 19th century Star of India, the world's oldest active sailing tall ship, plus Californian, the official tall ship for the state and the recently built 16th century Spanish galleon replica San Salvador.
Dr. Raymond Ashley, president and CEO of the Maritime Museum of San Diego said: "... This class is designed as the first step to learn to become a tall ship sailor and volunteer time as a dedicated and well-respected member of the Maritime Museum of San Diego."
Classes are limited to 300 participants, free and require museum membership. Successful graduates will transfer their skills on the water when the fleet puts to sea with the Star of India's anniversary sail event in November. Visit sdmaritime.org
• • •
Home Start Inc., a nonprofit child abuse prevention and treatment agency netted more than $120,000 at its 46th Annual Blue Ribbon Gala held recently at the Estancia La Jolla Hotel & Spa.
The event, held each April in recognition of National Child Abuse Prevention Month, raised funds for the organization's programs that provide critical assistance to children and families throughout San Diego County.
Prev Next