EATERIES ADOPT 'SUPERFOOD' PRODUCTS AND LABELS AS MORE CONSUMER PREFERENCES HEAD TOWARD HEALTHY
Fruitful Selling Points
Thursday, July 5, 2018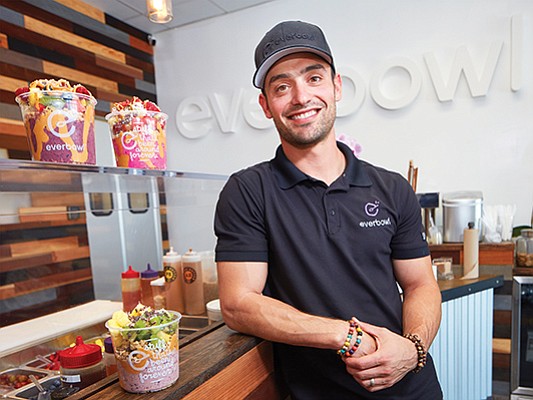 continued — Still, despite the label's lack of credibility, it isn't stopping San Diegans from buying into the booming trend, as more and more superfoods-centric businesses continue to pop up in and around South County. Part of the reason why is because Americans are becoming increasingly health conscious, joining the clean label movement thought to have been sparked by millennials, and turning away from artificial ingredients, preservatives, antibiotics and other man-made food modifiers to replace them with nutrient-rich and fresh foods.
The Numbers
As a result, superfoods like quinoa, kale, blueberries and chia seeds are growing in popularity. According to a Nielsen report, chia seeds sales increased by 14.7 percent in a 52-week period ending April 2017; kale by 9.3 percent; quinoa by 15.6 percent; and strawberries by 5.4 percent. And, while blueberries dropped by 0.7 percent, categories of foods including that ingredient went up by 30 percent.
The so-called superfoods are also growing as an add-in ingredient in nontraditional categories like vitamins and supplements and dry pasta, per Nielsen, with year over year sales increases of 541 percent for kale in pasta and 331 percent for quinoa in vitamins and supplements. According to ReportLinker.com, a market research company that finds and organizes industry data, analysts project the global superfoods market will grow at a compound annual rate of 15.7 percent from 2018-2022.
Brian Dunlap, managing partner at The Mad Beet in Pacific Beach, which sells 100 percent organic superfood smoothies and fruit bowls, says although "superfoods is a marketing ploy, people are getting smarter and more socially-aware, and they are understanding that the body will act like a fine-tuned machine depending on what you put in it. People will eat up what you feed them, and this is what they are being fed right now."
He added that the opening of more shops like his means "people are more open and receptive to eating better foods, and they care about what goes into their bodies. It's nice to see more healthier options instead of just pizza and beer and fried food spots." Currently, The Mad Beet has one location and hopes to reach $1 million in sales this year, with plans to expand in the future.
Sales Increasing
Robin Hubbard, director of marketing of Beaming Wellness' Beaming Cafes, which opened its first restaurant in 2012 and has seven locations in San Diego so far, says the annual sales for the company has grown 120 percent in the past three years. As a result of increased sales and rise in popularity, Beaming, which offers an array of 100 percent organic and plant-based superfood smoothies, food pairings and cleanses, grew from one to seven locations in a six-year period, and recently received funding from E38, a private equity firm focused in the health and wellness space, to continue to expand. Beaming plans on opening more locations in August and a couple more by early 2019.