FITNESS: FROM INFORMAL START, IT MOVES TO FRANCHISING, STUDIOS, AND DIGITAL PROGRAMS
Fit4Mom Expands Through Some Key Developmental Stages
Thursday, July 5, 2018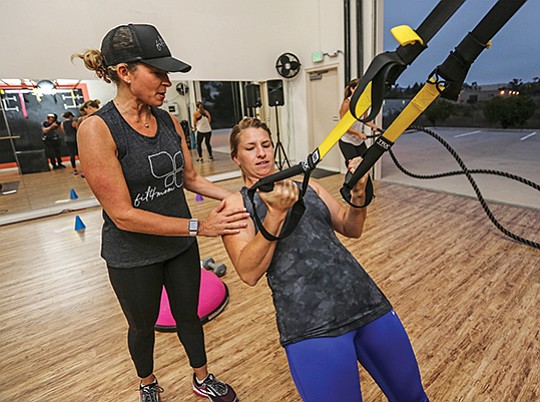 continued — As a result, the franchisees aren't just moms (and one dad) with a fitness background, they range from attorneys to accountants to artists and even rocket scientists. "We stay ahead of the curve by focusing on two things: keeping our foundation strong with the classes and the franchise and then innovating and trying new things."
 Adesina Cash, owner at Hot Spot Yoga in Oakland, says it is Fit4mom's "safe space" atmosphere for moms who are attempting to navigate motherhood and get back in shape that makes it so successful. "The Fit4mom franchise helps to show moms what is possible, rather than highlighting what they can no longer do now that they are moms," said Cash.
Cash owns and instructs at her yoga studio, and, as a new mother herself, she has focused on training women and mothers lately. She learned about Fit4mom from the internet, and says she's hoping to find a franchise in her area so she can join one.
"As they have grown to include the online program and the brick and mortar locations, the franchise can continue to stay ahead of the curve by creating programs that focus on yoga, meditation, pilates, low impact workouts and even swim programs. The continued success of the Fit4mom franchise will be directly tied to their ability to serve moms with different needs and interests," Cash said.
But the business hasn't thrived without its share of tribulations. After Druxman began to see success, with 12 class locations throughout San Diego from Chula Vista to Oceanside the first year and then reaching 128 locations in 40 states by year three, a competitor called the authorities on her for selling licenses. She conferred with her attorney, who suggested she switch her business over to a franchise model. As a result, she offered all of her licensees their money back, and all but one refused to accept. "They were so happy with the program they didn't want to take their money back," said Druxman, "and the one that did accept only took it because they needed the money for a relocation."
Studio Time
In 2003, Fit4mom officially began franchising. And, ten years later, Druxman rebranded Stroller Strides as Fit4mom, which offers five workout programs tailored to fit the various needs of moms.
Next year, Druxman says two more classes will be added to the roster, one of which will be created specifically for Fit4mom studios, the first one of which opened up in Seattle in 2015 by a franchisee. While most Fit4Mom classes are taught outdoors, in neighborhood parks and beach piers, or through partnerships that franchisees have with venues in their areas like karate studios, libraries and churches, as of June, there were 11 Fit4mom studios around the country.