FITNESS: FROM INFORMAL START, IT MOVES TO FRANCHISING, STUDIOS, AND DIGITAL PROGRAMS
Fit4Mom Expands Through Some Key Developmental Stages
Thursday, July 5, 2018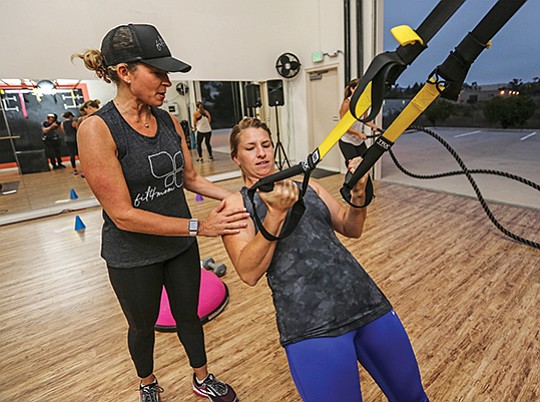 San Diego — For Lisa Druxman, chief founding mom of Fit4mom (formerly known as "Stroller Strides"), the San Diego-based company which provides fitness for every stage of motherhood, launching the business 17 years ago came from pure necessity.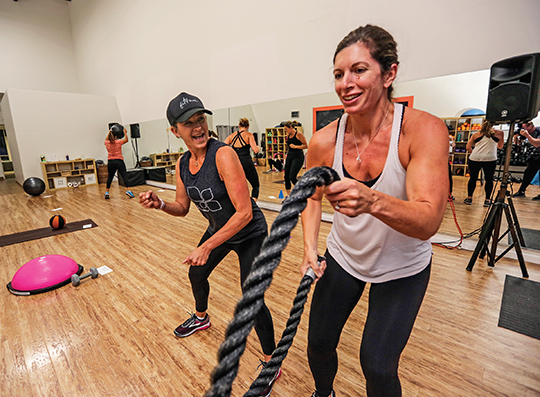 FIT4MOM
Founder: Lisa Druxman
Number of franchises: 300, and over 2,000 class locations nationally
Year founded: 2001
Revenue: $3.7 million in 2017
Company description: A fitness and health program for moms that focuses on all stages of motherhood
Today, Fit4mom has 300 franchises — 40 of those groups in San Diego, which is a territory Druxman still owns — over 2,000 class locations nationally and an international presence on an American military base in Germany. The company's corporate revenue went from $2.3 million in 2016 to $3.7 million in 2017. Revenue for franchisees went up by 47 percent from 2017 to mid-2018, with some franchisees making up to six figures, something Druxman credits to their focused efforts in helping grow the opportunity through "improved branding, marketing and support."
Getting Started
"When I became a mom, I didn't want to work full-time for someone else," said Druxman, who graduated from San Diego State University in 1996 with a master's degree in psychology, specializing in exercise adherence and weight management, and was working in fitness management at a La Jolla gym at the time. "During my maternity leave is when I created Stroller Strides. But, I didn't create it for it to be a business. I created it for myself, because, although I knew I could get moms back in shape, I really just wanted a community and support. What I found was that I wasn't the only mom looking for that. Within a few weeks of teaching, I did a fitness story on a local television station — that was August 2001 — and the rest is history."
Franchising
Druxman, who still teaches classes in the San Diego area, says the key to her success has been keeping her target market — mothers — at the forefront of all her decisions, from maintaining franchising costs low ($4,995 for a single territory covering four miles or up to 100,000 in population) and charging two percent of gross sales in franchisor fees (less than the usual nine percent for most franchise businesses, according to Druxman), to the types of classes and support options she provides.
"I think the appeal, more than anything, is that we are not just a fitness class," Druxman said, adding that while other trainers have attempted to kick off similar mom-focused fitness programs and other gyms have opened, none have the nationwide reach Fit4mom has. "We are really about building up the mom and building up the community around her. It doesn't matter what city the mom is from, every mom is looking to make connections and needs a community. In other cultures, babies are raised by villages. We don't have that here in the United States, so, we create that by helping build the mom back up and the community and the culture."
As a result, the franchisees aren't just moms (and one dad) with a fitness background, they range from attorneys to accountants to artists and even rocket scientists. "We stay ahead of the curve by focusing on two things: keeping our foundation strong with the classes and the franchise and then innovating and trying new things."
 Adesina Cash, owner at Hot Spot Yoga in Oakland, says it is Fit4mom's "safe space" atmosphere for moms who are attempting to navigate motherhood and get back in shape that makes it so successful. "The Fit4mom franchise helps to show moms what is possible, rather than highlighting what they can no longer do now that they are moms," said Cash.
Cash owns and instructs at her yoga studio, and, as a new mother herself, she has focused on training women and mothers lately. She learned about Fit4mom from the internet, and says she's hoping to find a franchise in her area so she can join one.
"As they have grown to include the online program and the brick and mortar locations, the franchise can continue to stay ahead of the curve by creating programs that focus on yoga, meditation, pilates, low impact workouts and even swim programs. The continued success of the Fit4mom franchise will be directly tied to their ability to serve moms with different needs and interests," Cash said.
But the business hasn't thrived without its share of tribulations. After Druxman began to see success, with 12 class locations throughout San Diego from Chula Vista to Oceanside the first year and then reaching 128 locations in 40 states by year three, a competitor called the authorities on her for selling licenses. She conferred with her attorney, who suggested she switch her business over to a franchise model. As a result, she offered all of her licensees their money back, and all but one refused to accept. "They were so happy with the program they didn't want to take their money back," said Druxman, "and the one that did accept only took it because they needed the money for a relocation."
Studio Time
In 2003, Fit4mom officially began franchising. And, ten years later, Druxman rebranded Stroller Strides as Fit4mom, which offers five workout programs tailored to fit the various needs of moms.
Next year, Druxman says two more classes will be added to the roster, one of which will be created specifically for Fit4mom studios, the first one of which opened up in Seattle in 2015 by a franchisee. While most Fit4Mom classes are taught outdoors, in neighborhood parks and beach piers, or through partnerships that franchisees have with venues in their areas like karate studios, libraries and churches, as of June, there were 11 Fit4mom studios around the country.
"The Fit4mom studios were something we always wanted to do, but, we didn't always have the resources for it," said Druxman. "Some of the franchisees wanted to do it, so, we've been supporting them and testing it out. It will become a big part of our model moving forward."
Taking a Media Role
Today, Druxman has an executive team that runs the business while she plays more of a media role; she makes television appearances and she runs a podcast called "Empowered Mama," on which she interviews other moms that have launched successful businesses, discussing how they balance work and motherhood. Earlier this year, she released a book by the same name. "My time is focused on interviewing, writing and speaking, which creates total synergy and feeds back to the business."
Earlier this year, Fit4mom launched an online portal called MamaWell, complete with digital programs to cater to those moms that don't have access to a class whether it is because they don't have a franchise in their city or because they are working mothers. The fee-based 42-week program combines fitness, nutrition and postpartum care and can be found on the Fit4mom website. "This is the first year we introduced our digital programs and it is designed to helps moms through pregnancy, helping them feel better-prepared for motherhood," said Druxman, who was raised in Los Angeles but moved to San Diego in 1988 for school. "This is a live program that is already being offered through franchisees. Our goal is to raise the franchisees' revenue with more turn-key programs."
Druxman added: "I think we've trailblazed this entire time. In no way, shape or form have we reinvented the wheel, but, we innovated in the types of classes we create and in the franchise opportunity."