LEADERSHIP: COO BUILT HER CAREER FROM THE GROUND UP
Embracing Risk and Reward of Real Estate
Monday, July 2, 2018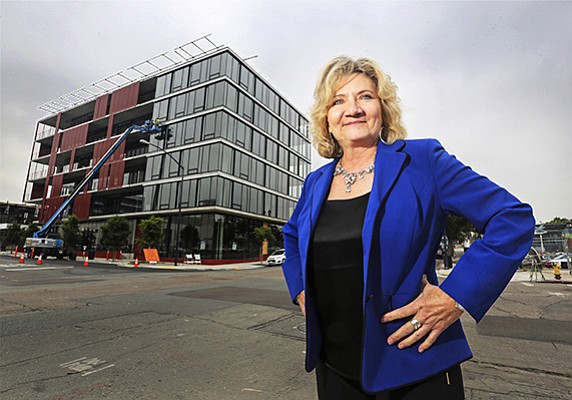 San Diego — Mary Pampuch, the new chief operating officer of Lankford & Associates, once wanted to be an actress.
Appointed COO of the company in June, Pampuch, who also is its executive vice president, oversees many of the projects that are transforming downtown San Diego's East Village neighborhood.
But growing up in the small Wisconsin town of Richland Center, Pampuch recalls telling a friend of her dreams as the two sat on a swing.
"She said 'there's no way you can be an actress,'" Pampuch said.
Later, Pampuch thought of becoming a fashion designer.
After graduating from Richland Center High School in 1977, she enrolled in a fashion merchandising class at Western Wisconsin Technical College.
"I took a semester, and my mother said, 'maybe you should do something that's not so risky," Pampuch said. "It turns out development is risky too."
Risky or not, Pampuch said her career in developing commercial real estate has been a rewarding one.
What she likes most is figuring out the details on a project when it's in its early stages.
Solving the Puzzles
"You have this puzzle, all these pieces you have to put
Mary Pampuch
Title: COO
Company: Lankford & Associates
Title: Chief Operating Officer and Executive Vice President
Education: San Diego State University, certificate in construction supervision; University of Phoenix, bachelor of science, business administration; Western Wisconsin Technical College, associate's degree, secretarial science.
Recreation: Hiking, golf, DIY projects.
Charitable work: Financial support of San Diego Humane Society, Family Justice Center. Urban Discovery Foundation Board, and East Village Foundation Board.
Family: Two rescue cats. No children.
together, which is what I find is the most intriguing part of the process," Pampuch said.
Among her favorite projects was the Sanford Consortium for Regenerative Medicine at UC San Diego and a new building for the University of California President's Office in Oakland.
The latter was the first in which Pampuch was project manager and included the office building for the university system and a parking garage for the city of Oakland.
Always Up for a Challenge
The Sanford Consortium project was a special challenge because it came at the start of the 2007-2008 financial crisis when hardly anyone was lending money for commercial real estate projects.
The consortium ultimately sold bonds to help pay for the project.
"Beyond financing, the site was a challenge," Pampuch said.
The property abuts the Torrey Pines Golf Course.
"We had to redo the drainage on the 11th hole of Torrey Pines," Pampuch said.
Prev Next