DEVICES: MULTIPRONGED PLAN IMPROVES EARNINGS TRAJECTORY
DJO Works Its Way Back to Better Health
Sunday, July 1, 2018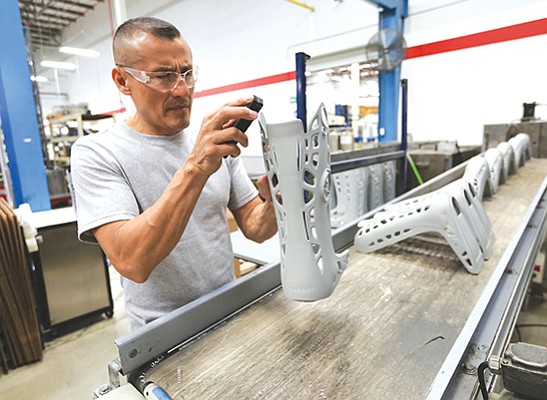 San Diego — DJO Global CEO Brady Shirley likened the company's business transformation plan to a knee surgery: short-term pain for long-term gain.
It's an apt metaphor for a company with products running the orthopedic gamut, from bracing for injury prevention to surgical implants to neuromuscular electric stimulation.
DJO GLOBAL
CEO: Brady Shirley
Revenue: $292.6 million in Q1 revenue, a 1.5 percent year-over-year increase.
Employees: 5,500
Headquarters: Vista
Year founded: 1978
Description: DJO Global develops and manufactures products in bracing for injury prevention, surgical implants and neuromuscular stimulation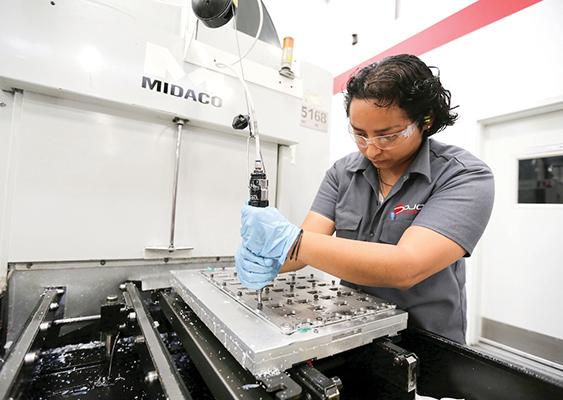 A force in the industry with 2017 net sales of $1.19 billion and 5,500 employees, the Vista-based company is in the midst of a multipronged initiative that analysts credit with improving its fiscal outlook.
When Shirley took the reins in 2016, on one hand, there was much to like. DJO stood atop the bracing industry, with a fast-growing surgical business, which Shirley was president of before being named CEO. But the company was highly leveraged.
Building for the Future
"Under the hood, the company was really, I don't know if I'd say it was in trouble, but it was not in a strong position for tomorrow," Shirley said. Great companies, he added, have capacity to invest for growth.
"And we weren't in a position where we couldn't invest. Period," he said.
In December 2016, DJO launched a three-year turnaround effort, centering on slashing costs to reinvest in company growth engines. It wasn't easy, Shirley said in a drawl revealing his Texas upbringing.
"We simply shifted resources so we could start feeding the company and giving it the opportunity to have the next 10- to 20-year run, versus just taking some short-term approach that cuts a few costs out, and then two years later you're trying to determine the next costs you're going to cut," Shirley said.
Duncan Brown, managing director of Wells Fargo Securities, said DJO's debt balance looks similar compared to two years ago, but the company's earnings trajectory improved dramatically.
Brown said when the turnaround plan was announced, he was "cautiously skeptical" — but no longer.

"New management has, frankly, done an excellent job," he said.
A key metric in Brown's mind is earnings before interest, taxes, depreciation and amortization, or EBITDA. Adjusted EBITDA was $64.8 million in DJO's first quarter results, a 13.2 percent increase from the same period a year earlier.
Wells Fargo Securities believes EBITDA growth will continue, anticipating 2018's total will be 13.8 percent higher than 2017. Brown also cited increasing DJO bond prices as "reflective of the market believing more in the DJO story."
Prev Next