Connection, Change Were Celebrated and Served at Gathering
Sunday, July 1, 2018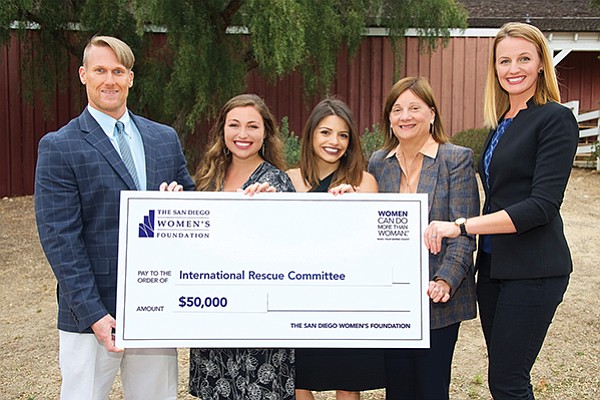 San Diego — The San Diego Women's Foundation held its 18th Annual Grants Celebration Building Bridges: Connecting Women, Creating Change recently. More than 200 people gathered at the Cygnet Theatre to celebrate the power of women in united philanthropy.
The evening showcased the critical work of SDWF's nonprofit partners. Since its founding in 2000, the organization has granted $3.4 million to benefit underserved communities across the region.
At the event, SDWF awarded $200,000 to fund innovative enrichment programs. This year's grantees include: Boys to Men Mentoring Network Inc. — Boys to Men Mentoring Program; International Rescue Committee —Refugee Girls Academy; Survivors of Torture International — Refugee Student Enrichment Activities; Tariq Khamisa Foundation — Restorative Workshops; The AjA Project — Girls-Eye View and The David's Harp Foundation Inc. — Student Studio.
At the event, Executive Director Katie Sawyer announced that SDWF's next grant cycle will fund programs to combat human trafficking in San Diego County. San Diego is among the top regions in the country for sex and labor trafficking, and SDWF anticipates providing at least $200,000 next year to address the issue. Visit sdwomensfoundation.org.
• • •
Gafcon Inc., a construction and program management firm based in San Diego, was recognized as one of the nation's premier construction services firms, according to a new ranking by Engineering News-Record.
Gafcon ranked 41st in Top Program Management Firms and 62nd in the category of Top Construction Management-For-Fee Firms. Gafcon's place in this year's standing improves upon its 2017 placement, when it was ranked 43rd and 63rd in the respective categories. Gafcon once again secured a spot on the list of third-party companies that project owners turn to in order to manage intricate construction programs.
Josh Gaffen, VP of Gafcon said: "ENR's annual list is an important benchmark in the construction management industry. It is an honor to be included."
Currently, Gafcon is the program manager of two waterfront megaprojects, each totaling more than $1 billion in new development: A $12 billion, 3,200-acre Zizhu High Tech Park in Shanghai, China and Seaport San Diego, a 70-acre site downtown along the San Diego Bay. Visit gafcon.com.

• • •
San Diego Habitat for Humanity announced its continued partnership with The Home Depot at a recent build event. The partnership included a donation of $157,500 from The Home Depot and the hard work of 260 employee and vendor volunteers who helped build homes and playhouses in support of Habitat's mission of building better life stories for local families in need of improved housing. Volunteers helped on a site in El Cajon that will eventually have five new, affordable homes for purchase by local families. One of these homes will be purchased by veteran Jonathan Olayo and his wife, Sarah. Home Depot volunteers will also build 20 playhouses to present to local military and veteran families.
Since the inception of this partnership in 2012, The Home Depot has donated a total of $2.3 million to San Diego Habitat for Humanity. Visit sandiegohabitat.org.
• • •
Rancho Santa Fe resident and philanthropist, Holli Lienau, hosted the 6th Annual "Bullies Uncorked" fundraiser at Sundried Tomato in San Juan Capistrano to help benefit Southern California Bulldog Rescue. The event raised more than $11,000. Nearly 100 guests were in attendance for wine tasting, sangria, and signature appetizers from the chefs of Bueno Bueno Mexican Kitchen.
In a live auction, Lienau also auctioned off two wine harvesting events to two lucky winners and their guests at her Rancho Santa Fe Estate. Skip Van Der Marliere, the co-founder and director of SoCal Bulldog Rescue, shared how it helps up to 400 to 450 dogs per year since the nonprofit opened its doors in 1997. The nonprofit helps dogs in situations of shelter rescues, owner relinquishment, and vet office surrenders. Visit www.SoCalBulldogrescue.org.
Send Kudos/Giving items to
sglidden@sdbj.com.