From Tree to Design Treasures, Del Mar Home Has Cool Covered
Sunday, January 28, 2018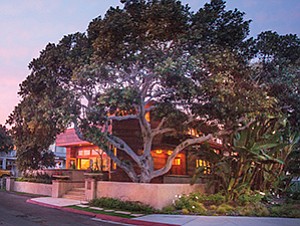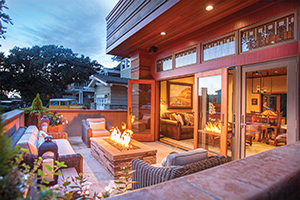 San Diego — With the rumble of the racetrack to the east and the soothing sound of waves lapping the shore just a few steps to the west, this Craftsman-style home is the personification of life in the Beach Colony of Del Mar.
On a laid-back residential lane on the northwest corner of Camino Del Mar and 27th Street, the home has become somewhat of a landmark. Jon Granston, a realtor with P.S. Platinum Properties who has the listing on the property, said that whenever he mentions the house to people they will undoubtedly say "Oh, I know that house, it's such a cool house."
Built in 2006, the home at 160 27th St. in Del Mar is a three-bedroom, three-bath home with 2,242 square feet and a listing price of $5.7 million. Granston said this side of 27th Street is mainly primary owners, "so you get less of the transient feel right there."
The Architecture
Designed by award-winning architect, Brian Church, as part of a two-home project that's memorable not only for its architecture, but for the spectacular old fig tree that provides privacy from the street and shades the home.
Completely different from its sister home next door in color and façade, the home's lines are uniquely Craftsman with a modern flair. Horizontal panels of ochre-colored wood siding are framed with a red-sandstone hued wooden trim. The front patio, partially shaded by the tree, has a sleekly modern vibe with a fire pit and low white concrete walls of varying levels capped by broad russet-colored stone slabs.
"What makes this one unique is you don't see a whole lot of his (Brian Church's) work around town, Granston said. "You see a lot of Dean Meredith, Bokal & Sneed, Batter Kay — what I think is interesting is that this home has a similar feel in a way to those architects, but it's really a stand-alone house, a very unique home."
Church does indeed have a diverse style and a varied portfolio. He's built or remodeled homes in Del Mar, Encinitas and Solana Beach, according to his website. He's also a commercial project architect with such notable structures as the Solterra Winery in Leucadia; Park 101, a restaurant in Carlsbad, the Pizza Port deck also in Carlsbad and the former Dos Palmas Bakery & Grill in Leucadia. A few years ago, he won the AIA (American Institute of Architects) Best Mixed-Use Project Honor award for SEMA4, a distinctive four-unit, live-work project inspired by the shape of a sail in Leucadia.
Prev Next