Production Balloons for GATR
Sunday, January 28, 2018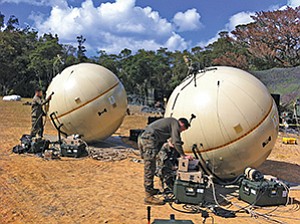 San Diego — Cubic Corp. announced in mid-January that it has gone to full-rate production on its GATR satellite dish contract for the U.S. Army. The decision means the Army can buy and field more than 800 satellite communication systems.
GATR dishes are collapsible and therefore very portable. The dishes are made from heavy fabric and inflate like beach balls … very large beach balls, mind you, measuring 1.2 meters (roughly 4 feet) and 2.4 meters (roughly 8 feet) in diameter.
Cubic (NYSE: CUB) declined to say how much it is charging for one of its units.
A brigade from the 82nd Airborne Division is going to be one of the first units to use the device for its satellite communications.
Cubic closed its $232.5 million acquisition of Alabama-based GATR Technologies in early 2016.
Cubic has a unique business model. It provides products and services to U.S. and allied militaries. It also provides advanced fare collection systems and other technology for transit operators worldwide.